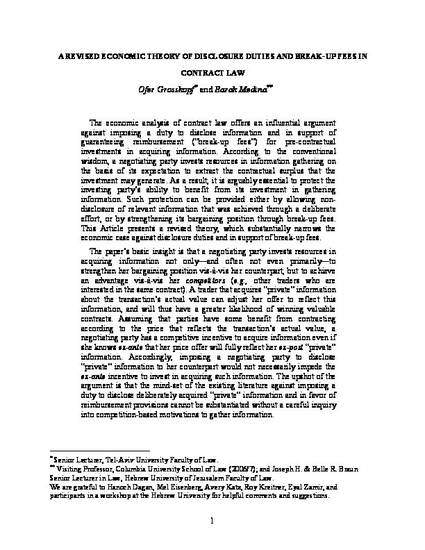 Unpublished Paper
A REVISED ECONOMIC THEORY OF DISCLOSURE DUTIES AND BREAK-UP FEES IN CONTRACT LAW
ExpressO (2007)
Abstract
The economic analysis of contract law offers an influential argument against imposing a duty to disclose information and in support of guaranteeing reimbursement ("break-up fees") for pre-contractual investments in acquiring information. According to the conventional wisdom, a negotiating party invests resources in information gathering on the basis of its expectation to extract the contractual surplus that the investment may generate. As a result, it is arguably essential to protect the investing party's ability to benefit from its investment in gathering information. Such protection can be provided either by allowing non-disclosure of relevant information that was achieved through a deliberate effort, or by strengthening its bargaining position through break-up fees. This Article presents a revised theory, which substantially narrows the economic case against disclosure duties and in support of break-up fees.
The paper's basic insight is that a negotiating party invests resources in acquiring information not only—and often not even primarily—to strengthen her bargaining position vis-à-vis her counterpart, but to achieve an advantage vis-à-vis her competitors (e.g., other traders who are interested in the same contract). A trader that acquires "private" information about the transaction's actual value can adjust her offer to reflect this information, and will thus have a greater likelihood of winning valuable contracts. Assuming that parties have some benefit from contracting according to the price that reflects the transaction's actual value, a negotiating party has a competitive incentive to acquire information even if she knows ex-ante that her price offer will fully reflect her ex-post "private" information. Accordingly, imposing a negotiating party to disclose "private" information to her counterpart would not necessarily impede the ex-ante incentive to invest in acquiring such information. The upshot of the argument is that the mind-set of the existing literature against imposing a duty to disclose deliberately acquired "private" information and in favor of reimbursement provisions cannot be substantiated without a careful inquiry into competition-based motivations to gather information.
Publication Date
February, 2007
Citation Information
Barak Medina and Ofer Grosskopf. "A REVISED ECONOMIC THEORY OF DISCLOSURE DUTIES AND BREAK-UP FEES IN CONTRACT LAW"
ExpressO
(2007)
Available at: http://works.bepress.com/barak_medina/4/