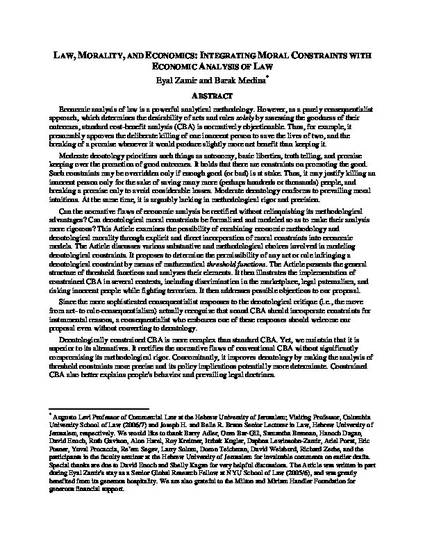 Unpublished Paper
LAW, MORALITY, AND ECONOMICS: INTEGRATING MORAL CONSTRAINTS WITH ECONOMIC ANALYSIS OF LAW
ExpressO (2007)
Abstract
Economic analysis of law is a powerful analytical methodology. However, as a purely consequentialist approach, which determines the desirability of acts and rules solely by assessing the goodness of their outcomes, standard cost-benefit analysis (CBA) is normatively objectionable. Thus, for example, it presumably approves the deliberate killing of one innocent person to save the lives of two, and the breaking of a promise whenever it would produce slightly more net benefit than keeping it.
Moderate deontology prioritizes such things as autonomy, basic liberties, truth telling, and promise keeping over the promotion of good outcomes. It holds that there are constraints on promoting the good. Such constraints may be overridden only if enough good (or bad) is at stake. Thus, it may justify killing an innocent person only for the sake of saving many more (perhaps hundreds or thousands) people, and breaking a promise only to avoid considerable losses. Moderate deontology conforms to prevailing moral intuitions. At the same time, it is arguably lacking in methodological rigor and precision.
Can the normative flaws of economic analysis be rectified without relinquishing its methodological advantages? Can deontological moral constraints be formalized and modeled so as to make their analysis more rigorous? This Article examines the possibility of combining economic methodology and deontological morality through explicit and direct incorporation of moral constraints into economic models. The Article discusses various substantive and methodological choices involved in modeling deontological constraints. It proposes to determine the permissibility of any act or rule infringing a deontological constraint by means of mathematical threshold functions. The Article presents the general structure of threshold functions and analyzes their elements. It then illustrates the implementation of constrained CBA in several contexts, including discrimination in the marketplace, legal paternalism, and risking innocent people while fighting terrorism. It then addresses possible objections to our proposal.
Since the more sophisticated consequentialist responses to the deontological critique (i.e., the move from act- to rule-consequentialism) actually recognize that sound CBA should incorporate constraints for instrumental reasons, a consequentialist who embraces one of these responses should welcome our proposal even without converting to deontology.
Deontologically constrained CBA is more complex than standard CBA. Yet, we maintain that it is superior to its alternatives. It rectifies the normative flaws of conventional CBA without significantly compromising its methodological rigor. Concomitantly, it improves deontology by making the analysis of threshold constraints more precise and its policy implications potentially more determinate. Constrained CBA also better explains people's behavior and prevailing legal doctrines.
Keywords
Cost benefit analysis,
moral constraints,
threshold deontology,
antidiscrimination,
consequentialism,
incommensurability,
normative ethics,
paternalism,
public morality,
terrorism,
utilitarianism,
welfare economics
Publication Date
February, 2007
Citation Information
Barak Medina and Eyal Zamir. "LAW, MORALITY, AND ECONOMICS: INTEGRATING MORAL CONSTRAINTS WITH ECONOMIC ANALYSIS OF LAW"
ExpressO
(2007)
Available at: http://works.bepress.com/barak_medina/3/