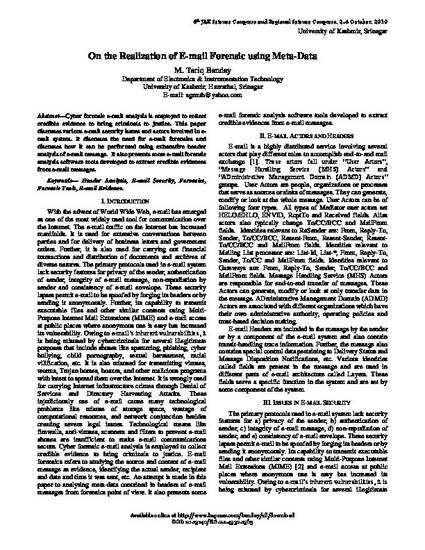 Article
On the Realization of E-mail Forensic using Meta-Data
6th J&K Science Congress and Regional Science Congress, 2-4 October, 2010, University of Kashmir, Srinagar (2010)
Abstract
Cyber forensic e-mail analysis is employed to collect credible evidence to bring criminals to justice. This paper discusses various e-mail security issues and actors involved in e-mail system. It discusses the need for e-mail forensics and discusses how it can be performed using exhaustive header analysis of e-mail message.  It also presents some e-mail forensic analysis software tools developed to extract credible evidences from e-mail messages.
Keywords
Header Analysis,
E-mail Security,
Forensics,
Forensic Tools,
E-mail Evidence.
Publication Date
Winter October 2, 2010
DOI
10.13140/RG.2.1.4332.1365
Citation Information
Banday, M. T. (2010). On the Realization of E-mail Forensic using Meta-Data. 6th J&K Science Congress and Regional Science Congress, 2-4 October, 2010, University of Kashmir, Srinagar. PP. 1-3. DOI: 10.13140/RG.2.1.4332.1365.
Creative Commons license
This work is licensed under a Creative Commons CC_BY-NC International License.