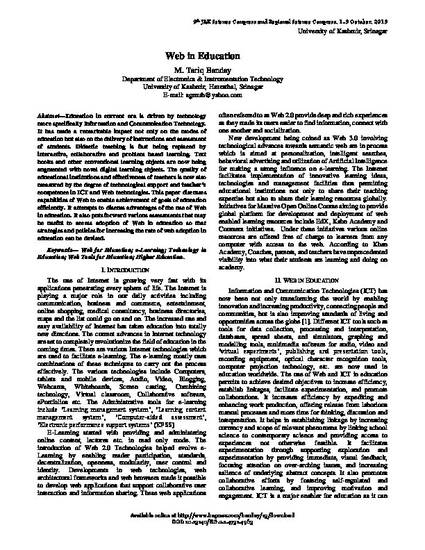 Article
Web in Education
9th J&K Science Congress and Regional Science Congress, 1-3 October, 2013 University of Kashmir, Srinagar (2013)
Abstract
Education in current era is driven by technology more specifically Information and Communication Technology. It has made a remarkable impact not only on the modes of education but also on the delivery of instructions and assessment of students. Didactic teaching is fast being replaced by interactive, collaborative and problem based learning. Text books and other conventional learning objects are now being augmented with novel digital learning objects. The quality of educational institutions and effectiveness of teachers is now also measured by the degree of technological support and teacher's competence in ICT and Web technologies. This paper discusses capabilities of Web to enable achievement of goals of education efficiently. It attempts to discuss advantages of the use of Web in education. It also puts forward various assessments that may be useful to access adoption of Web in education so that strategies and policies for increasing the rate of web adoption in education can be devised.
Keywords
Web for Education; e-Learning; Technology in Education; Web Tools for Education; Higher Education.
Publication Date
Winter October 1, 2013
DOI
10.13140/RG.2.1.4731.4963
Citation Information
Banday M. T. (2013). Web in Education. 9th J&K Science Congress and Regional Science Congress, 1-3 October, 2013, University of Kashmir, Srinagar, pp. 1-4, DOI: 10.13140/RG.2.1.4731.4963.