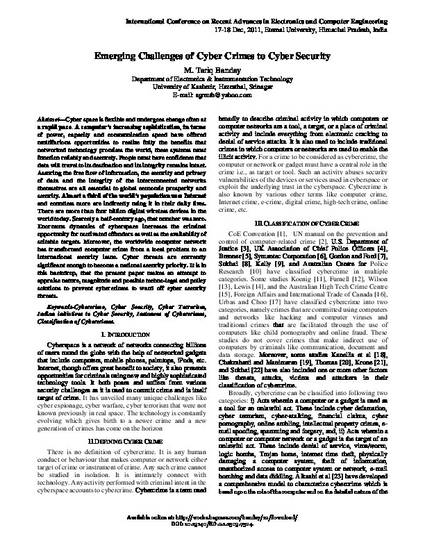 Article
Emerging Challenges of Cybercrimes to Cyber Security
International Conference on Recent Advances in Electronics and Computer Engineering, Eternal University, Himachal Pradesh, India (2011)
Abstract
Cyber space is flexible and undergoes change often at a rapid pace. A computer's increasing sophistication, in terms of power, capacity and communication speed have offered multifarious opportunities to realize fully the benefits that networked technology promises the world, these systems must func¬tion reliably and securely. People must have confidence that data will travel to its destination and its integrity remains intact. Assuring the free flow of information, the security and privacy of data and the integrity of the interconnected networks themselves are all essential to global economic prosperity and security. Almost a third of the world's population uses Internet and countless more are indirectly using it in their daily lives. There are more than four billion digital wireless devices in the world today. Scarcely a half-century ago, that number was zero. Enormous dynamics of cyberspace increases the criminal opportunity for motivated offenders as well as the availability of suitable targets. Moreover, the worldwide computer network has transformed computer crime from a local problem to an international security issue. Cyber threats are currently significant enough to become a national security priority. It is in this backdrop, that the present paper makes an attempt to appraise nature, magnitude and possible techno-legal and policy solutions to prevent cyber crimes to ward off cyber security threats.
Keywords
Cybercrime,
Cyber Security,
Cyber Terrorism,
Indian initiatives to Cyber Security,
Instances of Cybercrimes,
Classification of Cybercrimes
Publication Date
Winter December 17, 2011
DOI
10.13140/RG.2.1.1503.7524
Citation Information
Banday, M.T. (2011). Emerging Challenges of Cybercrimes to Cyber Security. International Conference on Recent Advances in Electronics and Computer Engineering, pp. 1-7, 17-18 Dec, 2011, Eternal University, Himachal Pradesh, India. DOI: 10.13140/RG.2.1.1503.7524.
Creative Commons license
This work is licensed under a Creative Commons CC_BY-NC International License.