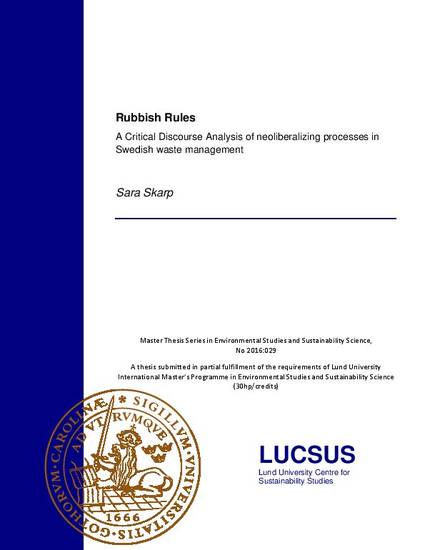 Thesis
Rubbish Rules: A Critical Discourse Analysis of neoliberalizing processes in Swedish waste management
(2016)
Abstract
A linear system – one that extracts materials and then puts them in landfills and incinerates them,
thus creating a demand for even more materials – is fundamentally unsustainable. Swedish waste
management is thought by many to be progressive and at the forefront, when looking at the waste
hierarchy. While there is a ban on landfilling non-hazardous and organic waste in Sweden, around
50% is incinerated in so-called waste-to-energy plants, the second-to-last favored option in the waste
hierarchy. My research aims at investigating how the project of neoliberalization, understood as a
complex process of deregulation and restructuring of the state apparatus, has affected Swedish
waste management, and specifically waste incineration. Subscribing to the idea that language shapes
our reality and dictates which problems and solutions that are possible and which are not, I conduct
my research by using the analytical tool Critical Discourse Analysis, based on Norman Fairclough's
ideas. The data consists of transcripts from interviews with employees at municipalities and waste
incineration plants in the south of Sweden. My analysis shows that municipalities have become
competitors; there has been a corporatization of municipal waste companies; that language is
skewed in a market direction, etc. These results indicate that waste management in Sweden has
indeed been affected by neoliberalization. This means that neoliberalization acts on waste
incineration, for example through discourse, and this by extension reproduces the linearity of the
system. If we are to move to a circular system, a kretslopp as it has been called in Sweden, we need
to move away from waste incineration and towards recycling, reuse and prevention. To do this,
however, we first need to acknowledge that neoliberalism is present in Swedish waste management,
and that this might indeed hinder any attempt at progressing Swedish waste management even
further.
Keywords
waste incineration,
waste management,
Sweden,
discourse,
neoliberalization,
linearity
Publication Date
Spring May 16, 2016
Department
Environmental Studies and Sustainability Science
Citation Information
Sara Skarp. "Rubbish Rules: A Critical Discourse Analysis of neoliberalizing processes in Swedish waste management" (2016)
Available at: http://works.bepress.com/bahram_kazemian/36/