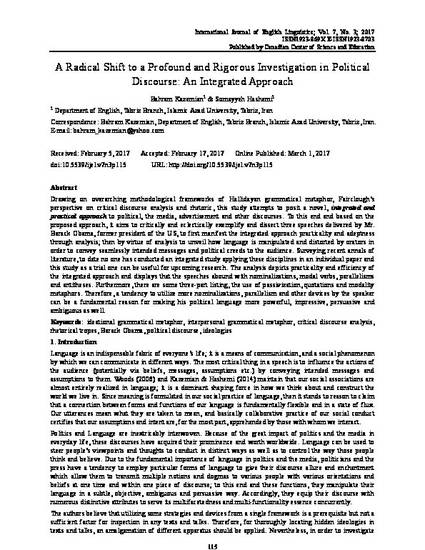 Article
A Radical Shift to a Profound and Rigorous Investigation in Political Discourse: An Integrated Approach
International Journal of English Linguistics (2017)
Abstract
Drawing on overarching methodological frameworks of Hallidayan grammatical metaphor, Fairclough's
perspective on critical discourse analysis and rhetoric, this study attempts to posit a novel, integrated and
practical approach to political, the media, advertisement and other discourses. To this end and based on the
proposed approach, it aims to critically and eclectically exemplify and dissect three speeches delivered by Mr.
Barack Obama, former president of the US, to first manifest the integrated approach practicality and adeptness
through analysis; then by virtue of analysis to unveil how language is manipulated and distorted by orators in
order to convey seamlessly intended messages and political creeds to the audience. Surveying recent annals of
literature, to date no one has conducted an integrated study applying these disciplines in an individual paper and
this study as a trial one can be useful for upcoming research. The analysis depicts practicality and efficiency of
the integrated approach and displays that the speeches abound with nominalizations, modal verbs, parallelisms
and antitheses. Furthermore, there are some three-part listing, the use of passivization, quotations and modality
metaphors. Therefore, a tendency to utilize more nominalizations, parallelism and other devices by the speaker
can be a fundamental reason for making his political language more powerful, impressive, persuasive and
ambiguous as well.
Keywords
ideational grammatical metaphor,
interpersonal grammatical metaphor,
critical discourse analysis,
rhetorical tropes,
Barack Obama,
political discourse,
ideologies
Publication Date
Winter March 4, 2017
DOI
https://doi.org/10.5539/ijel.v7n3p115
Citation Information
Bahram Kazemian and Somayyeh Hashemi. "A Radical Shift to a Profound and Rigorous Investigation in Political Discourse: An Integrated Approach"
International Journal of English Linguistics
Vol. 7 Iss. 3 (2017) p. 115 - 128 ISSN: 1923-869X
Available at: http://works.bepress.com/bahram_kazemian/35/