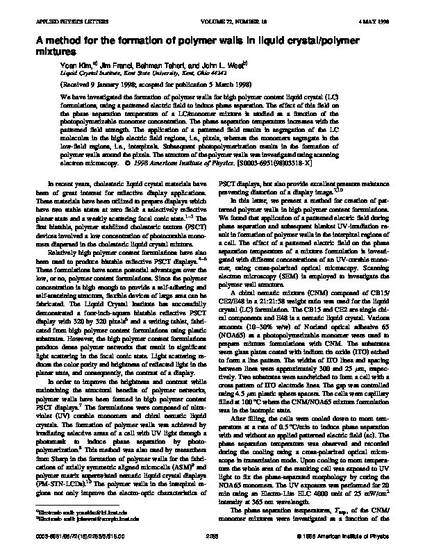 Article
A Method for the Formation of Polymer Walls in Liquid Crystal Polymer Mixtures
Applied Physics Letters
Publication Date
5-4-1998
Abstract
We have investigated the formation of polymer walls for high polymer content Liquid crystal (LC) formulations, using a patterned electric field to induce phase separation. The effect of this field on the phase separation temperature of a LC/monomer mixture is studied as a function of the photopolymerizable monomer concentration. The phase separation temperature increases with the patterned field strength. The application of a patterned field results in segregation of the LC molecules in the high electric field regions, i.e., pixels, whereas the monomers segregate in the low-field regions, i.e., interpixels. Subsequent photopolymerization results in the formation of polymer walls around the pixels. The structure of the polymer walls was investigated using scanning electron microscopy. (C) 1998 American Institute of Physics.
Citation Information
Yoan Kim, Jim Francl, Bahman Taheri and John L. West. "A Method for the Formation of Polymer Walls in Liquid Crystal Polymer Mixtures"
Applied Physics Letters
Vol. 72 Iss. 18 (1998) p. 2253 - 2255
Available at: http://works.bepress.com/bahman_taheri/1/