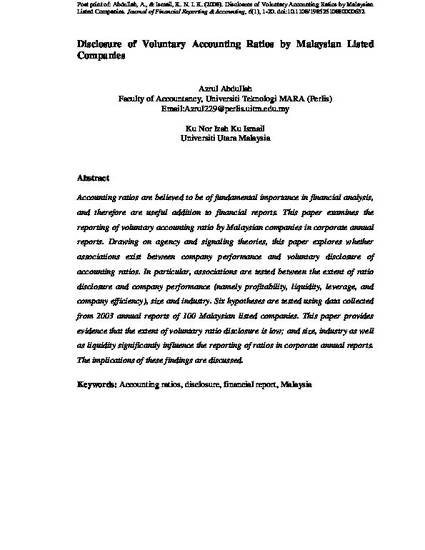 Article
Disclosure of Voluntary Accounting Ratios by Malaysian Listed Companies
Journal of Financial Reporting and Accounting, (2008)
Abstract
Accounting ratios are believed to be of fundamental importance in financial analysis, and therefore are useful addition to financial reports. This paper examines the reporting of voluntary accounting ratio by Malaysian companies in corporate annual reports. Drawing on agency and signaling theories, this paper explores whether associations exist between company performance and voluntary disclosure of accounting ratios. In particular, associations are tested between the extent of ratio disclosure and company performance (namely profitability, liquidity, leverage, and company efficiency), size and industry. Six hypotheses are tested using data collected from 2003 annual reports of 100 Malaysian listed companies. This paper provides evidence that the extent of voluntary ratio disclosure is low; and size, industry as well as liquidity significantly influence the reporting of ratios in corporate annual reports. The implications of these findings are discussed.
Keywords
Accounting ratios,
Disclosure Index,
Annual Report,
Company Performance,
Company- Specific Characteristics
DOI
10.1108/19852510880000632
Citation Information
Azrul Abdullah and Ku Nor Izah Ku Ismail. "Disclosure of Voluntary Accounting Ratios by Malaysian Listed Companies"
Journal of Financial Reporting and Accounting,
Vol. 6 Iss. 1 (2008) p. 1 - 20 ISSN: 1985-2517
Available at: http://works.bepress.com/azrulabdullah/5/