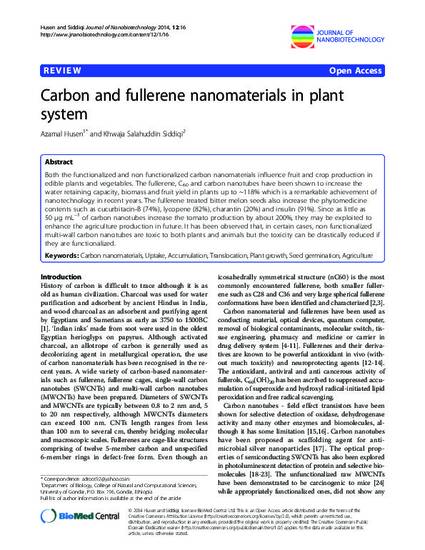 Article
Carbon and fullerene nanomaterials in plant system
Journal of Nanobiotechnology (2014)
Abstract
Both the functionalized and non functionalized carbon nanomaterials influence fruit and crop production in edible plants and vegetables. The fullerene, C60 and carbon nanotubes have been shown to increase the water retaining capacity, biomass and fruit yield in plants up to ~118% which is a remarkable achievement of nanotechnology in recent years. The fullerene treated bitter melon seeds also increase the phytomedicine contents such as cucurbitacin-B (74%), lycopene (82%), charantin (20%) and insulin (91%). Since as little as 50 μg mL−1 of carbon nanotubes increase the tomato production by about 200%, they may be exploited to enhance the agriculture production in future. It has been observed that, in certain cases, non functionalized multi-wall carbon nanotubes are toxic to both plants and animals but the toxicity can be drastically reduced if they are functionalized.
Publication Date
July, 2014
Citation Information
Azamal Husen and Khwaja Salahuddin Siddiqi. "Carbon and fullerene nanomaterials in plant system"
Journal of Nanobiotechnology
Vol. 12 Iss. 16 (2014)
Available at: http://works.bepress.com/azamal_husen/48/