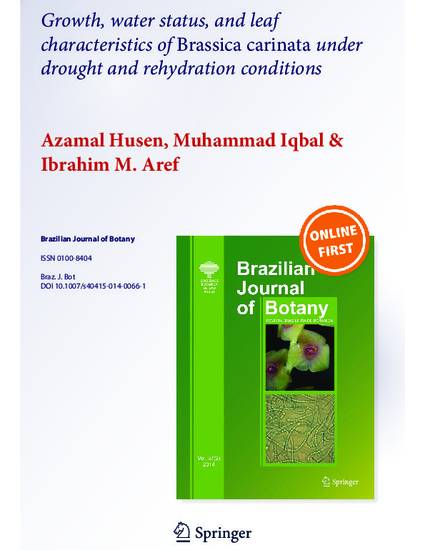 Article
Growth, water status and leaf characteristics of Brassica carinata under drought stress and rehydration conditions
Brazilian Journal of Botany (2014)
Abstract
This study has analyzed the response of Ethiopian mustard (Brassica carinata A. Braun) to induced drought stress and subsequent re-hydration in terms of plant growth, water status, chlorophyll concentration, chlorophyll fluorescence (FV/FM), net photosynthetic rate (Pn), transpiration rate (E) and stomatal conductance (gs). Potted plants were subjected to drought stress for 15 days and then to a daily irrigation for 5 days with 100% field capacity (FC), and then extent of possible loss due to stress and gain due to re-hydration were analyzed. The control population was maintained on normal watering schedule with 100% FC. Drought stress reduced the growth rate of root and shoot, number of leaves, dimensions (width, length and area) of leaves, and the biomass accumulation in different plant parts. With increase in drought stress, the relative water content, chlorophyll content, FV/FM, Pn, E and gs were reduced. After rehydration, a complete or partial recovery was seen for all the parameters studied. On the whole, B. carinata employs a morpho-physiological drought-avoidance strategy.
Publication Date
July, 2014
Citation Information
Azamal Husen, Department of Botany, Faculty of Science, Hamdard University, Hamdard Nagar, New Delhi-110062, India and Department of Plant Production, College of Food & Agricultural Sciences, King Saud University, Riyadh - 11451, Saudi Arabia. "Growth, water status and leaf characteristics of Brassica carinata under drought stress and rehydration conditions"
Brazilian Journal of Botany
Vol. 37 (2014)
Available at: http://works.bepress.com/azamal_husen/47/