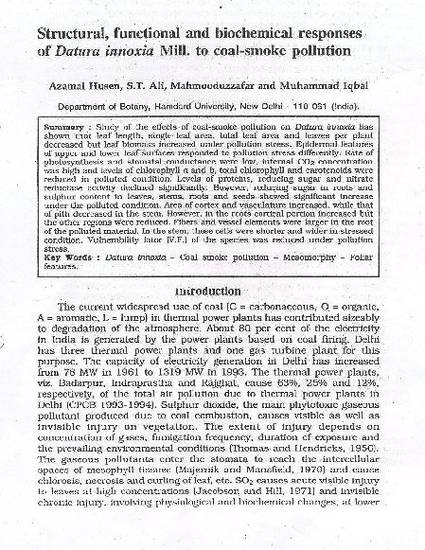 Article
Structural, functional and biochemical responses of Datura innoxia Mill. to coal-smoke pollution
Proc. Acad. Environ. Biol. (1999)
Abstract
Effect of coal-smoke pollution on Datura innoxia Mill. was investigated. D. innoxia has shown that leaf length, single leaf area, total leaf area and leaves per plant decreased but leaf biomass increased under pollution stress. Epidermal features of upper and lower leaf surface responded to pollution stress differently. Rate of photosynthesis and stomatal conductance were low, internal CO2 concentration was high and levels of chlorophyll a and b, total chlorophyll and carotenoids were reduced in polluted condition. Levels of proteins, reducing sugar in roots and sulphur contents in leaves, stem, roots and seeds showed significant increase under the polluted condition. Pollen viability declined by about 66 per cent at the polluted site. Area of cortex and vasculature increased while that of pith decreased in the stem. However, in the roots cortical portion increased but the other regions were reduced. Fibers and vessel elements were longer in the root of the polluted material. In the stem these cell were shorter and wider in stress condition. Vulnerability factor (V.F.) of the species was reduced under polluted stress.
Citation Information
Azamal Husen and Muhammad Iqbal. "Structural, functional and biochemical responses of Datura innoxia Mill. to coal-smoke pollution"
Proc. Acad. Environ. Biol.
Vol. 8 (1999)
Available at: http://works.bepress.com/azamal_husen/16/