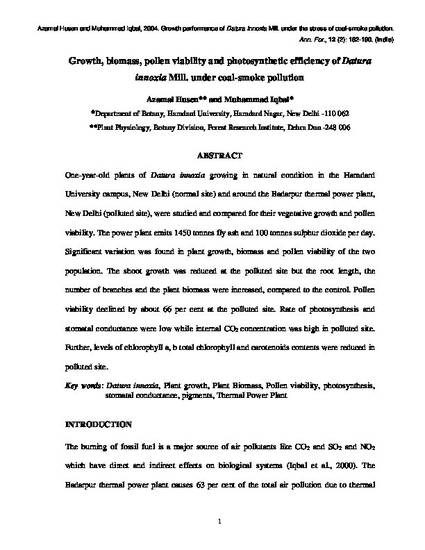 Article
Growth performance of Datura innoxia Mill. under the stress of coal-smoke pollution
Annals of Forestry (2004)
Abstract
One-year-old plants of Datura innoxia growing in natural condition in the Hamdard University campus, New Delhi (normal site) and around the Badarpur thermal power plant, New Delhi (polluted site), were studied and compared for their vegetative growth and pollen viability. The power plant emits 1450 tonnes fly ash and 100 tonnes sulphur dioxide per day. Significant variation was found in plant growth, biomass and pollen viability of the two population. The shoot growth was reduced at the polluted site but the root length, the number of branches and the plant biomass were increased, compared to the control. Pollen viability declined by about 66 per cent at the polluted site. Rate of photosynthesis and stomatal conductance were low while internal CO2 concentration was high in polluted site. Further, levels of chlorophyll a, b total chlorophyll and carotenoids contents were reduced in polluted site.
Keywords
Datura innoxia,
Plant growth,
Plant Biomass,
Pollen viability,
photosynthesis,
stomatal conductance,
pigments,
Thermal Power Plant
Citation Information
Azamal Husen and Muhammad Iqbal. "Growth performance of Datura innoxia Mill. under the stress of coal-smoke pollution"
Annals of Forestry
Vol. 12 (2004)
Available at: http://works.bepress.com/azamal_husen/15/