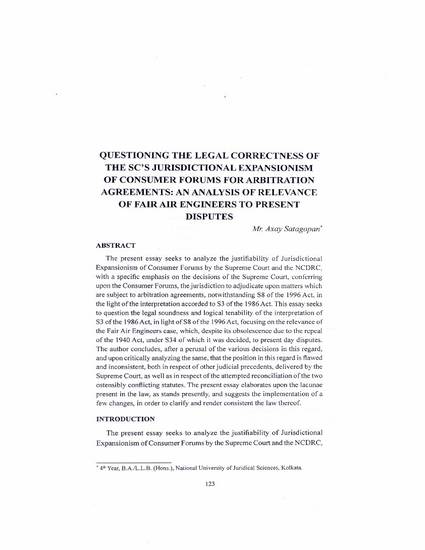 Article
Questioning the Legal Correctness of the SC's Jurisdictional Expansionism of Consumer Forums in respect of Matters Subject to Arbitration Agreements
International Journal of Consumer Law & Practice (2015)
Abstract
This article seeks to analyze the justifiability of jurisdictional expansionism of Consumer Forums by the Supreme Court and the NCDRC, with a specific emphasis on the decisions of the Supreme Court, conferring upon Consumer Forums, the jurisdiction to adjudicate upon matters which are subject to arbitration agreements, notwithstanding §8 of the Arbitration & Conciliation Act, 1996 ("1996 Act") and in view of the interpretation accorded to §3 of the Consumer Protection Act, 1986 ("1986 Act"). It questions the legal soundness and logical tenability of the interpretation of §3 of the 1986 Act, in light of §8 of the 1996 Act, focusing on the relevance of the
Fair Air Engineers
case, which
was relied upon by both the NCDRC and the Supreme Court, in determining the current position at law, in this regard
, despite its obsolescence due to the repeal of the 1940 Act, under §34 of which it was decided. It concludes, after a perusal and critical analysis of the various decisions in this regard, that the current position at law in this regard is flawed, being inconsistent, with precedents of the Supreme Court, rendered in respect of §8 of the 1996 Act, in its attempted reconciliation of provisions of two ostensibly conflicting statutes, and further, recommends changes, the implementation of which would be beneficial in clarifying the position of law, in this regard and reconciling the aforesaid provisions in a consistent manner.
Keywords
Consumer Protection Act,
Arbitration & Conciliation Act,
Jurisdiction,
Conflict of Statutes
Publication Date
August, 2015
Citation Information
Axay Satagopan. "Questioning the Legal Correctness of the SC's Jurisdictional Expansionism of Consumer Forums in respect of Matters Subject to Arbitration Agreements"
International Journal of Consumer Law & Practice
Vol. 3 Iss. 1 (2015) p. 123 - 144 ISSN: 2347-2731
Available at: http://works.bepress.com/axaysatagopan/4/
Creative Commons license
This work is licensed under a Creative Commons CC_BY International License.