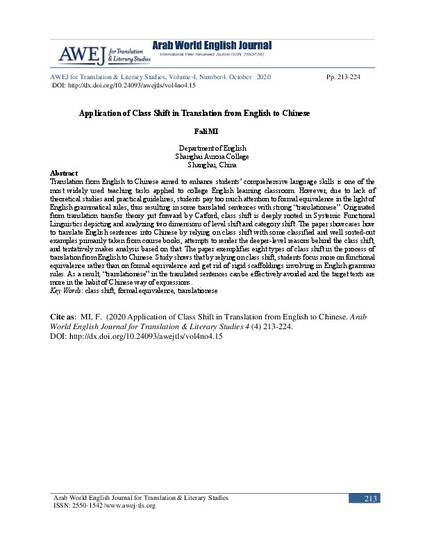 Article
Application of Class Shift in Translation from English to Chinese
AWEJ for Translation & Literary Studies (2020)
Abstract
Translation from English to Chinese aimed to enhance students' comprehensive language skills is one of the most widely used teaching tasks applied to college English learning classroom. However, due to lack of theoretical studies and practical guidelines, students pay too much attention to formal equivalence in the light of English grammatical rules, thus resulting in some translated sentences with strong "translationese". Originated from translation transfer theory put forward by Catford, class shift is deeply rooted in Systemic Functional Linguistics depicting and analyzing two dimensions of level shift and category shift. The paper showcases how to translate English sentences into Chinese by relying on class shift with some classified and well sorted-out examples primarily taken from course books, attempts to render the deeper-level reasons behind the class shift, and tentatively makes analysis based on that. The paper exemplifies eight types of class shift in the process of translation from English to Chinese. Study shows that by relying on class shift, students focus more on functional equivalence rather than on formal equivalence and get rid of rigid scaffoldings involving in English grammar rules. As a result, "translationese" in the translated sentences can be effectively avoided and the target texts are more in the habit of Chinese way of expressions.
Keywords
class shift,
formal equivalence,
translationese
Publication Date
Fall October 15, 2020
DOI
http://dx.doi.org/10.24093/awejtls/vol4no4.15
Citation Information
Fali MI. "Application of Class Shift in Translation from English to Chinese"
AWEJ for Translation & Literary Studies
Vol. 4 Iss. 4 (2020) p. 213 - 224 ISSN: 2550-1542
Available at: http://works.bepress.com/awejfortranslation-literarystudies/252/