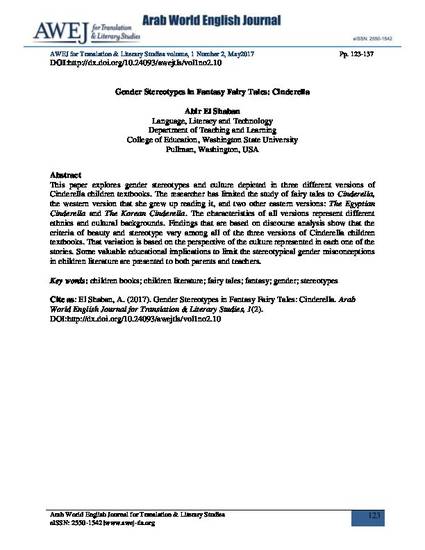 Article
Gender Stereotypes in Fantasy Fairy Tales: Cinderella
Arab World English Journal for Translation & Literary Studies (2017)
Abstract
This paper explores gender stereotypes and culture depicted in three different versions of Cinderella children textbooks. The researcher has limited the study of fairy tales to
Cinderella,
the western version that she grew up reading it, and two other eastern versions:
The Egyptian Cinderella
and
The Korean Cinderella
. The characteristics of all versions represent different ethnics and cultural backgrounds. Findings that are based on discourse analysis show that the criteria of beauty and stereotype vary among all of the three versions of Cinderella children textbooks. That variation is based on the perspective of the culture represented in each one of the stories. Some valuable educational implications to limit the stereotypical gender misconceptions in children literature are presented to both parents and teachers. 
Keywords
children books; children literature; fairy tales; fantasy; gender; stereotypes
Publication Date
Spring May 15, 2017
DOI
http://dx.doi.org/10.24093/awejtls/vol1no2.10
Citation Information
Abir El Shaban. "Gender Stereotypes in Fantasy Fairy Tales: Cinderella"
Arab World English Journal for Translation & Literary Studies
Vol. 1 Iss. 2 (2017) p. 123 - 137 ISSN: 2550-1542
Available at: http://works.bepress.com/awejfortranslation-literarystudies/17/