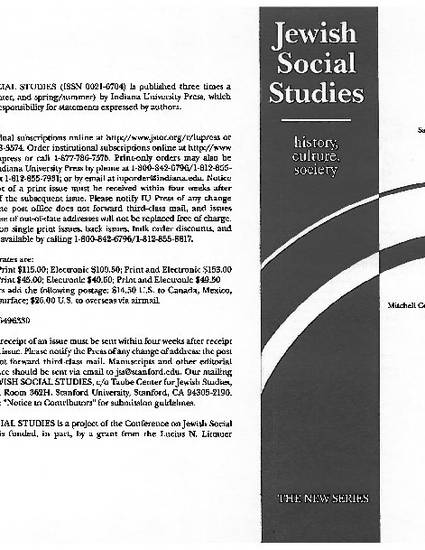 Article
Purim in the Public Eye: Leisure, Violence, and Cultural Convergence in the Dutch Atlantic
Jewish Social Studies (2013)
Abstract
In its public and ecumenical nature, the celebration of Purim in Suriname and Curaçao in the eighteenth and early nineteenth centuries was unparalleled in the Atlantic world. White Christians and slaves actively participated in the revelry and by the early 1800s, Purim showed signs of having become the colony's carnival, a non-sectarian festivity with strong Afro-Creole attributes. This small corner of the social fabric, manifested in shared cultural performance, more approximates latticework than the separate spheres, ordered upon hierarchy and violence, that most obviously undergirded daily life in Caribbean slave societies. This public prominence of Purim reflects the three major conditions that characterized Jewish communities in the Dutch Caribbean: Jews formed one third to one half of the white population, lived in a society where most residents were both enslaved and of African origin, and enjoyed an autonomy rooted in legal privileges unparalleled among Jews elsewhere in the Atlantic world.
Keywords
Atlantic Jewish history,
Suriname,
Purim
Publication Date
Fall 2013
Citation Information
Aviva Ben-Ur. "Purim in the Public Eye: Leisure, Violence, and Cultural Convergence in the Dutch Atlantic"
Jewish Social Studies
Vol. 20 Iss. 1 (2013)
Available at: http://works.bepress.com/aviva_benur/16/