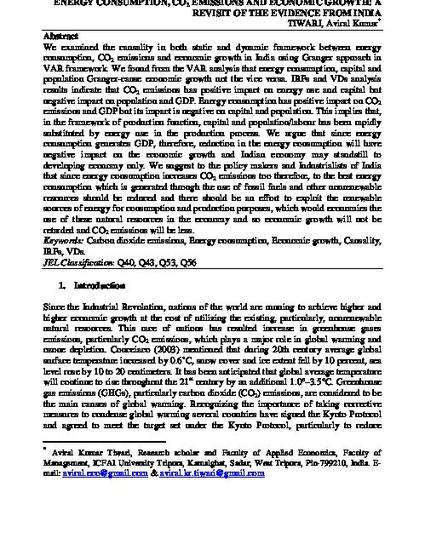 Article
ENERGY CONSUMPTION, CO2 EMISSIONS AND ECONOMIC GROWTH: A REVISIT OF THE EVIDENCE FROM INDIA
Applied Econometrics and International Development (2011)
Abstract
We examined the causality in both static and dynamic framework between energy consumption, CO2 emissions and economic growth in India using Granger approach in VAR framework. We found from the VAR analysis that energy consumption, capital and population Granger-cause economic growth not the vice versa. IRFs and VDs analysis results indicate that CO2 emissions has positive impact on energy use and capital but negative impact on population and GDP. Energy consumption has positive impact on CO2 emissions and GDP but its impact is negative on capital and population. This implies that, in the framework of production function, capital and population/labour has been rapidly substituted by energy use in the production process. We argue that since energy consumption generates GDP, therefore, reduction in the energy consumption will have negative impact on the economic growth and Indian economy may standstill to developing economy only. We suggest to the policy makers and Industrialists of India that since energy consumption increases CO2 emissions too therefore, to the best energy consumption which is generated through the use of fossil fuels and other nonrenewable resources should be reduced and there should be an effort to exploit the renewable sources of energy for consumption and production purposes, which would economies the use of these natural resources in the economy and so economic growth will not be retarded and CO2 emissions will be less.
Keywords
Carbon dioxide emissions,
Energy consumption,
Economic growth,
Causality,
IRFs,
VDs.
Publication Date
December, 2011
Citation Information
aviral kumar tiwari. "ENERGY CONSUMPTION, CO2 EMISSIONS AND ECONOMIC GROWTH: A REVISIT OF THE EVIDENCE FROM INDIA"
Applied Econometrics and International Development
Vol. 11 Iss. 2 (2011)
Available at: http://works.bepress.com/aviral_kumar_tiwari/18/