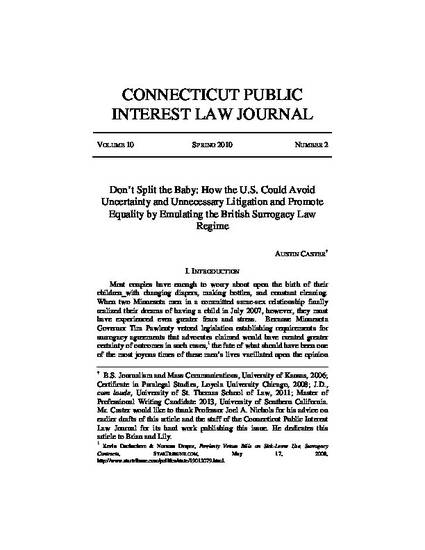 Article
Don't Split the Baby: How the U.S. Could Avoid Uncertainty and Unnecessary Litigation and Promote Equality by Emulating the British Surrogacy Law Regime
Connecticut Public Interest Law Journal (2011)
Abstract
This article will show that the United States can protect the rights of the intended parents, the surrogate, and the child while avoiding uncertainty and unnecessary litigation by enacting uniform legislation akin to the United Kingdom's regime. The first section will examine the history of surrogacy law in the United States, demonstrate the inconsistency of these laws, and suggest that reform is needed. Section two will discuss the United Kingdom's legislative response to the problem of surrogacy arrangements, which has provided more uniformity despite obstacles similar to those faced in the United States. The third section will illustrate that the United States should adopt a uniform surrogacy law regime using American constitutional and contract law as a basis for such legislation. The fourth section will argue why even those who disagree that families created through surrogacy are constitutionally protected should support uniform federal legislation. Finally, the fifth section will address why even the most logical and convincing counterarguments do not provide a rational basis for perpetuating our patchwork surrogacy regime.
Publication Date
Spring 2011
Citation Information
Austin R Caster. "Don't Split the Baby: How the U.S. Could Avoid Uncertainty and Unnecessary Litigation and Promote Equality by Emulating the British Surrogacy Law Regime"
Connecticut Public Interest Law Journal
Vol. 10 Iss. 2 (2011)
Available at: http://works.bepress.com/austin_caster/4/