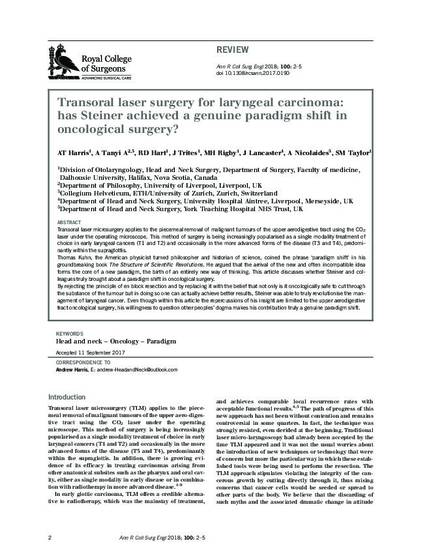 Article
Transoral Laser Surgery for Laryngeal Carcinoma: has Steiner achieved a genuine paradigm shift in oncological surgery? (with Andrew Harris et. al.)
Annals of the Royal College of Surgeons (England) (2018)
Abstract
Steiner's contribution to the surgical management of laryngeal cancer is clearly significant,  but can we really describe it as a true paradigm shift? Is it not simply a modification, admittedly an important one, to an existing surgical technique, just like any of a myriad of others that pervade modern surgical practice? Can we really compare it to the great paradigm shifts in astronomy, physics and biology, examples of which we gave earlier? In response, we need to appreciate that it is not the technique per se that is under consideration here but the conceptual breakthrough. The fact that Steiner was prepared to reject a whole way of thinking by abandoning the previously cherished and seeming inviolable idea of what constitutes sound oncological surgery, coupled by his ability to replace it with a new one that was its exact opposite. His main insight was that by adhering to the principle of en block resection, surgeons were limiting the role of laser surgery to a small minority of early laryngeal carcinomas, and had to resort to either radical radiotherapy or radical open surgery to deal with the rest. By rejecting the principle of en block resection, and by replacing it with the belief that, not only is it oncologically safe to cut through the substance of the tumour but in doing so one can actually achieve better results, Steiner was able to truly revolutionise the management of laryngeal cancer. Even though within this article the repercussions of his insight are limited to the upper aerodigestive tract oncological surgery, his willingness to question other peoples' dogma makes his contribution truly a genuine paradigm shift.
Keywords
paradigm shift,
surgery,
Kuhn,
oncology
Publication Date
January, 2018
DOI
https://doi.org/10.1308/rcsann.2017.0190
Citation Information
Attila Tanyi. "Transoral Laser Surgery for Laryngeal Carcinoma: has Steiner achieved a genuine paradigm shift in oncological surgery? (with Andrew Harris et. al.)"
Annals of the Royal College of Surgeons (England)
Vol. 100 Iss. 1 (2018) p. 2 - 5
Available at: http://works.bepress.com/attila_tanyi/32/