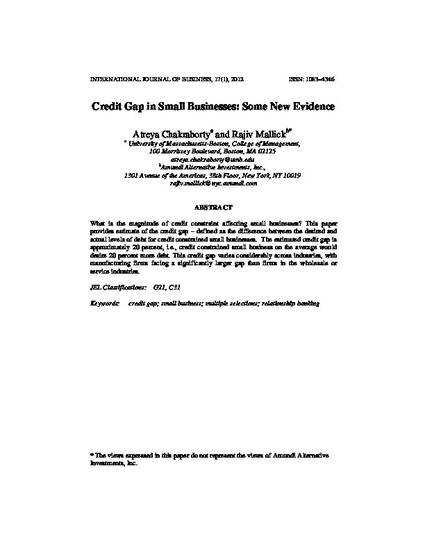 Article
Credit Gap in Small Businesses: Some New Evidence
INTERNATIONAL JOURNAL OF BUSINESS (2012)
Abstract
What is the magnitude of credit constraint affecting small businesses? This paper provides estimate of the credit gap – defined as the difference between the desired and actual levels of debt for credit constrained small businesses. The estimated credit gap is approximately 20 percent, i.e., credit constrained small business on the average would desire 20 percent more debt. This credit gap varies considerably across industries, with manufacturing firms facing a significantly larger gap than firms in the wholesale or service industries.
Keywords
credit gap,
small business,
multiple selections,
relationship banking
Citation Information
Atreya Chakraborty. "Credit Gap in Small Businesses: Some New Evidence"
INTERNATIONAL JOURNAL OF BUSINESS
Vol. 17 Iss. 1 (2012)
Available at: http://works.bepress.com/atreya_chakraborty/11/