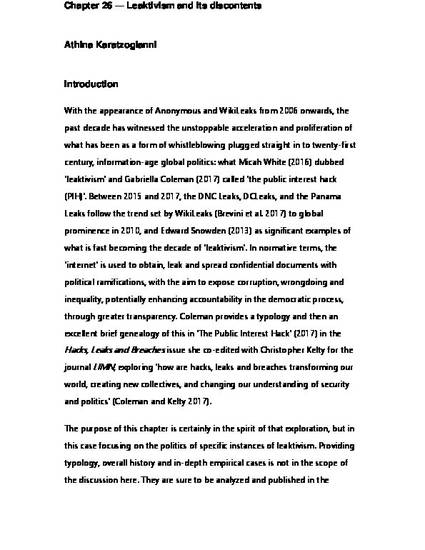 Contribution to Book
Leaktivism and its Discontents
The Routledge Companion to Media and Activism (2017)
Abstract
This work examines how two core debates (secrecy versus transparency and openness versus closure) influence the framing of ethics and tactics, and produce unintended consequences for actors and relationships surrounding leaktivism. To illustrate my argument, I refer to DCLeaks, and WikiLeaks' DNCLeaks and CIALeaks. These specific empirical examples are chosen, because there is a consistent thematic on intelligence, secrecy and transparency, democratic accountability, propaganda and sabotage in global politics involving prominent actors in the United States and Russia, as well as proxy countries across the East-West Cold War axis. I argue that t
he main discontent with leaktivism is that corporate-funded leaktivist organizations of various descriptions tend to be involved in aspects of disrupting government intelligence, as well as other civil society organizations funded by either corporate or government actors. L
eaktivist individuals and/or organizations present themselves as new surreptitious actors who engage in global political vigilantism, in order to mount resistance against surveillance, censorship, perceived injustice and corruption, and in solidarity with movements fighting repressive and authoritarian governments. Anonymous and Snowden serve to demarcate the space of resistance to the hidden mechanics of thoroughgoing political penetration of the social, and in so doing reveal the totalitarian mechanisms which they each claim to resist. Furthermore, leaktivism can have devastating timing and can partially influence elections, to the extent that in the public discourse leaktivism is seen as both enhancing democracy by holding governments and corporations accountable and enforcing transparency, and at the same time disrupting the democratic process, when the leaks are manipulated to influence public opinion and voting behaviour, as witnessed with the phenomenon of election-timed leaks occurring in the US, but subsequently in France and the UK during 2017. Lastly, to use a metaphor, the two faces of leaktivism — enhancing versus disrupting democracy — are historically continuous with debates observed from the very 2010 WikiLeaks start: the openness versus closure, stemming from social and communication fields, and transparency versus control debates, stemming from international relations and security fields, continue to characterize the controversies and discontents surrounding the phenomenon.
Keywords
Leaktivism,
whistleblowing,
digital activism,
intelligence,
leaks,
global politics
Publication Date
Fall September 11, 2017
Citation Information
Karatzogianni, Athina (2017) 'Leaktivism and its Discontents' in Routledge Companion to Media and Activism edited by Graham Meikle, London and New York: Routledge.
Creative Commons License
This work is licensed under a Creative Commons CC_BY-SA International License.