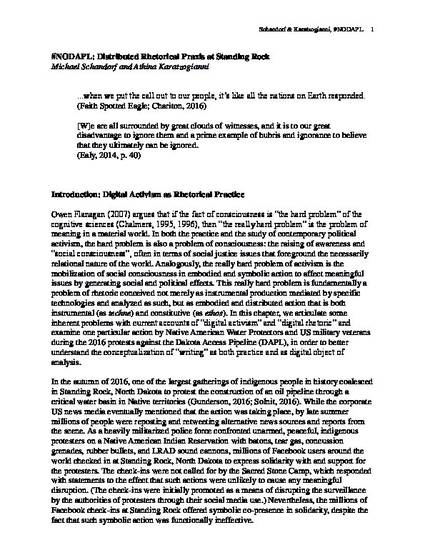 Contribution to Book
#NODAPL: Distributed Rhetorical Praxis at Standing Rock
Routledge Companion to Digital Writing & Rhetoric (2017)
Abstract
Digital activism literature developed primarily by focusing on either the medium, the movement, or the specific issue at hand while drawing from disciplinary perspectives and research methodologies including semiotics, discourse analysis, variously named digital ethnographies, social network analysis, and eventually big data and text mining. The focus on
in depth
rhetorical analysis, however, has been rarely attempted in studies of digital activist rhetoric—the "digital" typically being privileged over the "rhetoric" or even the "activism". Additionally, there is the problem of digital writing and rhetoric and how scholars of rhetoric have similarly approached "the digital". One particular event during the Standing Rock protest serves as an example of the limitations of focusing on movement, medium, or text, even as it would seem ripe for conventional analysis. T
he digitally networked activist practices of Standing Rock Water Protectors and their supporters are overtly and explicitly rhetorical practices, but, in their fluidity and dynamism, they can trouble the traditional understandings and categorizations of rhetorical and textual analysis, such as genre and discourse community, as much as they flout conventional notions of effective action in social and political resistance. Focusing on the rhetoric of an individual, a text, or the rhetorical affordances of a medium (built upon and intertwined with uncritical assumptions about the constitution of information) misses entirely the distributed character of rhetorical praxis—which has always already been the case but is inescapable in a hypermediated and digitally networked (if not integrated) world. T
he investigation of rhetoric and rhetorical processes – of what people in assemblages of actors and agents are doing and trying to accomplish in communication and/as interaction
across places and media, and within or against the algorithmic rhythms of a political economy of corporate manipulation and state regulation – cannot be confined to the limitations of textual production and consumption if we hope to generate actionable understanding of those processes.
Keywords
Rhetoric,
political communication,
agency,
enviromental activism,
social media
Editor
Jonathan Alexander and Jacqueline Rhodes
Citation Information
Michael Schandorf and Athina karaztogianni '#NODAPL: Distributed Rhetorical Praxis at Standing Rock', prepared for Routledge Companion to Digital Writing & Rhetoric, edited by Jonathan Alexander and Jacqueline Rhodes, London and New York: Routledge. Online available at : https://works.bepress.com/athina_karatzogianni/29/
Creative Commons License
This work is licensed under a Creative Commons CC_BY-SA International License.