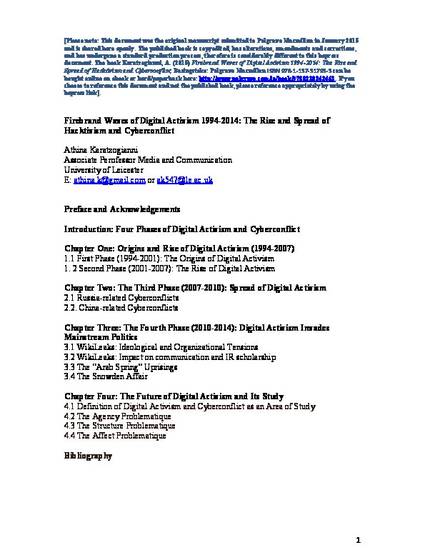 Book
Firebrand Waves of Digital Activism 1994-2014: The Rise and Spread of Hacktivism and Cyberconflict (Prepublication Copy)
(2015)
Abstract
This book introduces four waves of upsurge in digital activism and cyberconflict. The rise of digital activism started in 1994, was transformed by the events of 9/11, culminated in 2011 with the Arab Spring uprisings, and entered a transformative phase of control, mainstreaming and cooptation since 2013 with the Snowden revelations. Digital activism is defined here as political participation, activities and protests organized in digital networks beyond representational politics. It refers to political conduct aiming for reform or revolution by non-state actors and new sociopolitical formations such as social movements, protest organizations, and individuals and groups from the civil society. The latter is defined as social actors outside government and corporate influence. Cyberconflict is defined as conflict in computer mediated environments and it involves an analysis of the interactions between actors engaged in digital activism to raise awareness for a specific cause, struggles against government and corporate actors, as well as conflict between governments, states and corporations. The rationale for these phases is solely based on political effects, rather than technological or developmental determinants. The book's thesis is that there is a constant transformation of digital activism beyond its symbolic and mobilizational qualities, as we have experienced it since 1994. Digital activism is likely to enter a phase of mainstreaming as 'politics as usual': an established element in the fabric of political life with no exceptional qualities, normalized and mainstreamed by governments through collaboration with corporation, the cooptation of NGOs and the resistance of new sociopolitical formations. Cyberconflict will revolve more around high-level information warfare of attacking infrastructure, rather than just using ICTs to mobilise or as a weapon for low-level societal largely symbolic attacks. The higher level character of conflict in digital networks will intensify to the extent that digital activism and cyberconflict of the last two decades shall pale by comparison.
Keywords
digital activism,
cyberconflict,
cyber conflict,
social media,
cyberprotest,
cyberwar
Publication Date
Fall September 1, 2015
Publisher
Palgrave Macmillan
Citation Information
Athina Karatzogianni. (2015) Firebrand Waves: of Digital Activism 1994-2014: The Rise and Spread of Hacktivism and Cyberconflict (Prepublication Copy). Available at: http://works.bepress.com/athina_karatzogianni/25/
Creative Commons license
This work is licensed under a Creative Commons CC_BY-NC-SA International License.