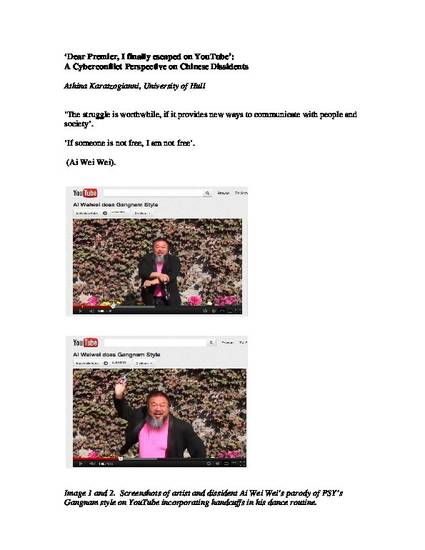 Contribution to Book
"Dear Premier I Finally Escaped on YouTube": A Cyberconflict Perspective on Chinese Dissidents
prepared toward the Routledge China Handbook (2012)
Abstract
A cyberconflict perspective would discuss how politico-economic reforms, the media environment, and e-governance have affected dissent in China (i.e. communist party ideology, constructions of social and political identities, representations of and by dissidents, and link to e-governance; control of information, level of censorship; alternative sources; media effects on policy; political contest). Second cluster of elements of concern would be the effect of ICTs on mobilization structures, organizational forms, participation, recruitment, tactics and goals of dissidents, as well as changes in framing processes and the impact of the political opportunity structure on resistances. Third, in relation to ethnic, ethnoreligious and cultural dissent, how the communist party state and dissident group identities are constructed in relation to ethnic/religious/cultural difference, and the national and competing idetities construction. Also, hacktivism (or invariably termed digital activism, tech activism, cyberactivism) and information warfare in China would be discussed in a variety of settings, especially in relation to social networking media and contemporary dissent. As this chapter is of a more limited nature, it restricts in discussing a few of the most relevant components especially relevant to recent events in the history of Chinese dissent, namely the political and historical context, media components and e-governance, and dissent in China in the age of social media.
Publication Date
Winter December 12, 2012
Editor
Ming-yeh Ranwsley and Gary Rawnsley
Citation Information
Athina Karatzogianni. 2012. ""Dear Premier I Finally Escaped on YouTube": A Cyberconflict Perspective on Chinese Dissidents" The Selected Works of Athina Karatzogianni Available at: http://works.bepress.com/athina_karatzogianni/13 Prepared for: Rawnsley, G.D. and Rawnsley, M.Y.T. (eds) The Routledge Handbook of Chinese Media, London and New York: Routledge
Creative Commons License
This work is licensed under a Creative Commons CC_BY-SA International License.