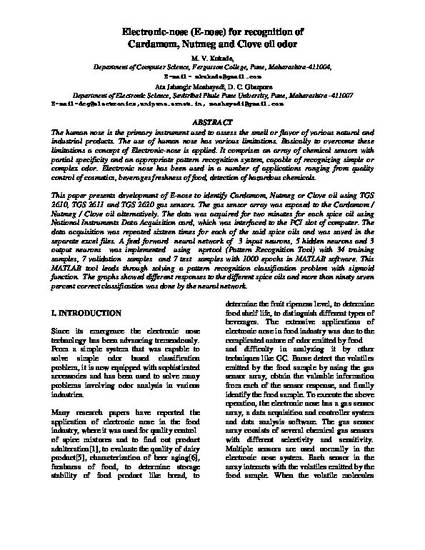 Article
Electronic-nose (E-nose) for recognition of Cardamom, Nutmeg and Clove oil odor
Electronics and its Interdisciplinary Applications (NCAEIA - 2014) (2014)
Abstract
ABSTRACT
The human nose is the primary instrument used to assess the smell or flavor of various natural and industrial products. The use of human nose has various limitations. Basically to overcome these limitations a concept of Electronic-nose is applied. It comprises an array of chemical sensors with partial specificity and an appropriate pattern recognition system, capable of recognizing simple or complex odor. Electronic nose has been used in a number of applications ranging from quality control of cosmetics, beverages freshness of food, detection of hazardous chemicals.
This paper presents development of E-nose to identify Cardamom, Nutmeg or Clove oil using TGS 2610, TGS 2611 and TGS 2620 gas sensors. The gas sensor array was exposed to the Cardamom / Nutmeg / Clove oil alternatively. The data was acquired for two minutes for each spice oil using National Instruments Data Acquisition card, which was interfaced to the PCI slot of computer. The data acquisition was repeated sixteen times for each of the said spice oils and was saved in the separate excel files. A feed forward neural network of 3 input neurons, 5 hidden neurons and 3 output neurons was implemented using nprtool (Pattern Recognition Tool) with 34 training samples, 7 validation samples and 7 test samples with 1000 epochs in MATLAB software. This MATLAB tool leads through solving a pattern recognition classification problem with sigmoid function. The graphs showed different responses to the different spice oils and more than ninety seven percent correct classification was done by the neural network.
Keywords
Electronic-nose (E-nose),
recognition of Cardamom,
Nutmeg and Clove oil odor
Publication Date
Fall September 19, 2014
Citation Information
Ata Jahangir Moshayedi, ,M. V. Kukade and Damayanti Gharpure. "Electronic-nose (E-nose) for recognition of Cardamom, Nutmeg and Clove oil odor"
Electronics and its Interdisciplinary Applications (NCAEIA - 2014)
(2014)
Available at: http://works.bepress.com/ata_jahangir_moshayedi/8/