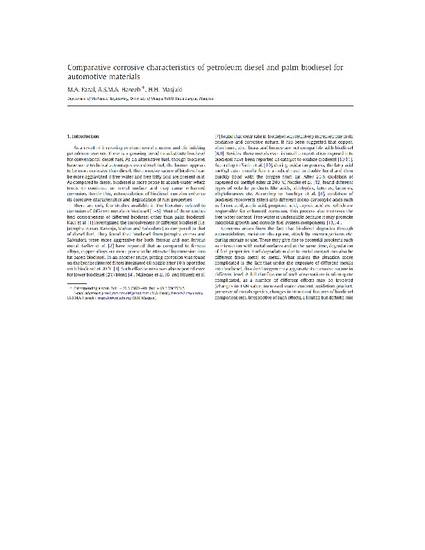 Article
Comparative corrosive characteristics of petroleum diesel and palm biodiesel for automotive materials
Fuel Processing Technology (2010)
Abstract
Corrosive characteristics of biodiesel are important for long term durability of engine parts. The present study aims to compare the corrosion behavior of aluminum, copper and stainless steel in both petroleum diesel and palm biodiesel. Immersion tests in biodiesel (B100) and diesel (B0) were carried out at 80 °C for 1200 h. At the end of the test, corrosion characteristic was investigated by weight loss measurements and changes on the exposed metal surface. Surface morphology was examined by optical microscope and scanning electron microscopy with energy dispersive X-ray analysis (SEM/EDS). Fuels were analyzed by using TAN analyzer, FTIR, GCMS and ICP in order to investigate the acid concentration, oxidation level with water content, compositional characteristics and presence of metal species respectively. Results show that the extent of corrosion and change in fuel properties upon exposure to metals are more in biodiesel than that in diesel. Copper and aluminum were susceptible to attack by biodiesel whereas stainless steel was not. © 2010 Elsevier Ltd. All rights reserved.
Keywords
Aluminum,
Copper,
Corrosion,
Diesel,
Palm biodiesel,
Stainless steel,
Acid concentrations,
Aluminum-copper,
Automotive materials,
Compositional characteristics,
Corrosion behavior,
Corrosion characteristics,
Corrosive characteristics,
Engine parts,
FTIR,
Fuel properties,
Immersion tests,
Long term durability,
Metal species,
Metal surfaces,
Optical microscopes,
Oxidation level,
Petroleum diesel,
SEM/EDS,
Weight loss measurements,
Biodiesel,
Corrosion resistant alloys,
Scanning electron microscopy,
Water content,
X ray microscopes
Publication Date
October 1, 2010
Citation Information
"Comparative corrosive characteristics of petroleum diesel and palm biodiesel for automotive materials"
Fuel Processing Technology
Vol. 91 Iss. 10 (2010)
Available at: http://works.bepress.com/asmd_haseeb/8/