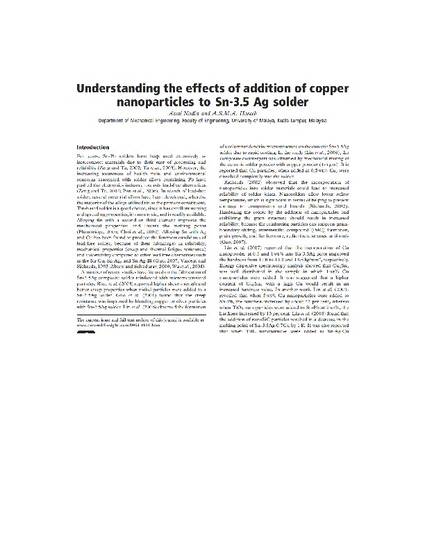 Article
Understanding the effects of addition of copper nanoparticles to Sn-3.5 Ag solder
Soldering & Surface Mount Technology (2011)
Abstract
Purpose - The purpose of this paper is to focus on the fabrication of SAC nanocomposites solder and discuss the effects of nanoCu addition on the structure and properties of resulted nanocomposite solder. Design/methodology/ approach - Ball milling is a nonequilibrium processing technique for producing composite metal particles with submicron homogeneity by the repeated cold welding and fracture of powder particles. This method is believed to offer good processablity, precise control over the solder composition, and produce more homogeneous mixture. Findings - It is found that the melting temperature, the wetting behaviour, and hardness are improved when the Cu nanoparticles are added. Originality/value - So far, no work has been done on the preparation of Cu nanoparticle added composite by ball milling. This paper presents the fabrication of Sn-Ag-Cu nanocomposite solders in a planetary ball mill process, and the data are compared with related researches done. © Emerald Group Publishing Limited.
Keywords
Composite materials,
Copper,
Mechanical properties of materials,
Nanotechnology,
Solder,
Copper nanoparticles,
Cu nanoparticles,
Homogeneous mixtures,
Melting temperatures,
Metal particle,
Nano-Cu,
Nanocomposite solder,
Non equilibrium,
Planetary ball mill,
Powder particles,
Precise control,
Processing technique,
Sn-3.5Ag solders,
Sn-Ag-Cu,
Solder composition,
Structure and properties,
Submicron,
Wetting behaviour,
Ball milling,
Ball mills,
Materials properties,
Mechanical properties,
Milling (machining),
Milling machines,
Nanocomposites,
Nanoparticles,
Silver,
Soldering alloys,
Tin
Citation Information
"Understanding the effects of addition of copper nanoparticles to Sn-3.5 Ag solder"
Soldering & Surface Mount Technology
Vol. 23 Iss. 2 (2011)
Available at: http://works.bepress.com/asmd_haseeb/79/