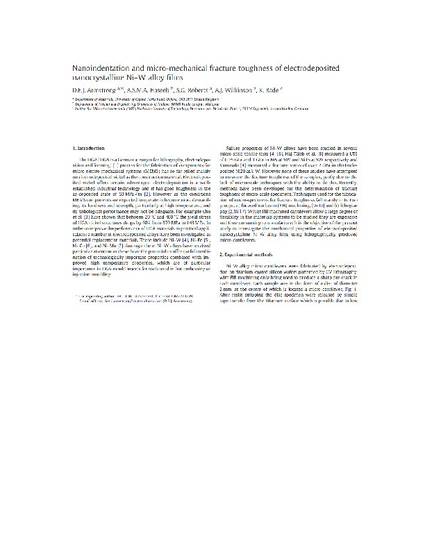 Article
Nanoindentation and micro-mechanical fracture toughness of electrodeposited nanocrystalline Ni-W alloy films
Thin Solid Films (2012)
Abstract
Nanocrystalline nickel-tungsten alloys have great potential in the fabrication of components for microelectromechanical systems. Here the fracture toughness of Ni-12.7 at.%W alloy micro-cantilever beams was investigated. Micro-cantilevers were fabricated by UV lithography and electrodeposition and notched by focused ion beam machining. Load was applied using a nanoindenter and fracture toughness was calculated from the fracture load. Fracture toughness of the Ni-12.7 at.%W was in the range of 1.49-5.14 MPa √m. This is higher than the fracture toughness of Si (another important microelectromechanical systems material), but considerably lower than that of electrodeposited nickel and other nickel based alloys. © 2012 Elsevier B.V. All rights reserved.
Keywords
Fracture,
Micromechanics,
Nanostructured materials,
Non-ferrous alloys,
Electro-deposited nickel,
Focused ion beam machinin,
Fracture load,
Micro-cantilevers,
Micro-mechanical,
Microcantilever beams,
Nano-structured,
Nanocrystallines,
Nanoindenters,
Ni-W alloy,
Nickel based alloy,
Nickel-tungsten alloy,
Nonferrous alloy,
UV lithography,
Cerium alloys,
Electrodeposition,
Electromechanical devices,
Mechatronics,
MEMS,
Nanoindentation,
Nickel,
Tungsten alloys
Publication Date
April 30, 2012
Citation Information
"Nanoindentation and micro-mechanical fracture toughness of electrodeposited nanocrystalline Ni-W alloy films"
Thin Solid Films
Vol. 520 Iss. 13 (2012)
Available at: http://works.bepress.com/asmd_haseeb/58/