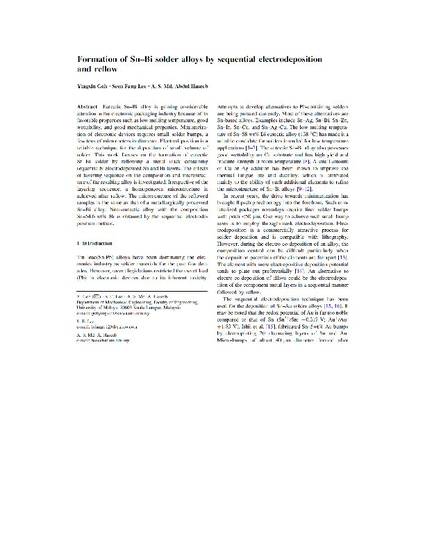 Article
Failure analysis of superheater tube supports of the primary reformer in a fertilizer factory
Journal of Materials Science: Materials in Electronics (2013)
Abstract
Eutectic Sn-Bi alloy is gaining considerable attention in the electronic packaging industry because of its favorable properties such as low melting temperature, good wettability, and good mechanical properties. Miniaturization of electronic devices requires small solder bumps, a few tens of micrometers in diameter. Electrodeposition is a reliable technique for the deposition of small volume of solder. This work focuses on the formation of eutectic Sn-Bi solder by reflowing a metal stack containing sequentially electrodeposited Sn and Bi layers. The effects of layering sequence on the composition and microstructure of the resulting alloy is investigated. Irrespective of the layering sequence, a homogeneous microstructure is achieved after reflow. The microstructure of the reflowed samples is the same as that of a metallurgically processed Sn-Bi alloy. Near-eutectic alloy with the composition Sn-54.6 wt% Bi is obtained by the sequential electrodeposition method. © 2013 Springer Science+Business Media New York.
Keywords
Electrodeposition methods,
Electronic device,
Electronic packaging industry,
Homogeneous microstructure,
Low melting temperatures,
Metal stacks,
Solder alloys,
Solder Bump,
Alloys,
Electrodeposition,
Eutectics,
Mechanical properties,
Microstructure,
Tin alloys,
Tin
Citation Information
"Failure analysis of superheater tube supports of the primary reformer in a fertilizer factory"
Journal of Materials Science: Materials in Electronics
Vol. 24 Iss. 6 (2013)
Available at: http://works.bepress.com/asmd_haseeb/44/