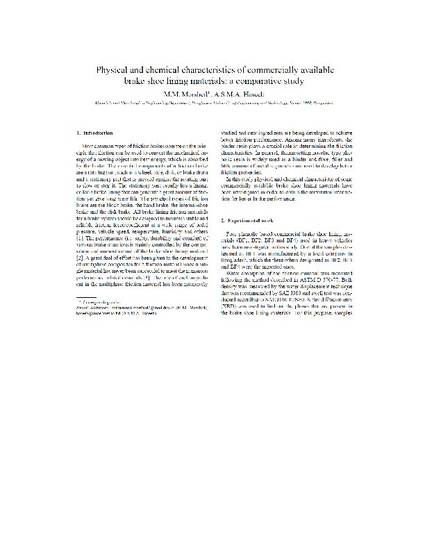 Article
Physical and chemical characteristics of commercially available brake shoe lining materials: A comparative study
Journal of Materials Processing Technology (2004)
Abstract
The physical and chemical characteristics of four commercial automotive brake shoe lining materials used in heavy vehicles have been investigated and compared. Relevant physical properties viz. density, water absorption and swelling characteristics were determined using standard test methods. X-ray diffraction, infrared spectroscopy and optical microscopic techniques were used to identify the constituents. It has been observed that all of the four friction materials contain phenol formaldehyde resin as the matrix. Other major ingredients were also the same in all the samples but their amount and size varied. These include asbestos as fibre reinforcement, barium sulphate as filler and brass particles as friction modifier. It was found that the swell resistance of the locally produced friction material compares favourably with that of the imported materials, but its bulk density was the lowest and its water absorption the highest. © 2004 Elsevier B.V. All rights reserved.
Keywords
Friction material,
Phenolic resin,
Physical properties,
Absorption,
Barium compounds,
Brass,
Diffractometers,
Formaldehyde,
Friction materials,
Infrared spectroscopy,
Optical microscopy,
Phenols,
Vehicles,
Water,
X ray diffraction,
Barium,
Commercial vehicles,
Phenolic resins,
Resins,
Barium sulfate,
Fiber reinforcement,
Friction modifiers,
Brake linings,
Swelling,
Automotive brake,
Barium sulphates,
Brake shoe,
Bulk density,
Comparative studies,
Fibre reinforcements,
Friction Modifier,
Heavy vehicle,
Lining materials,
Microscopic techniques,
Phenol formaldehyde resins,
Physical and chemical characteristics,
Standard test method,
Swell resistance,
Swelling characteristics
Publication Date
November 30, 2004
Citation Information
"Physical and chemical characteristics of commercially available brake shoe lining materials: A comparative study"
Journal of Materials Processing Technology
Vol. 155-156 Iss. 1-3 (2004)
Available at: http://works.bepress.com/asmd_haseeb/38/