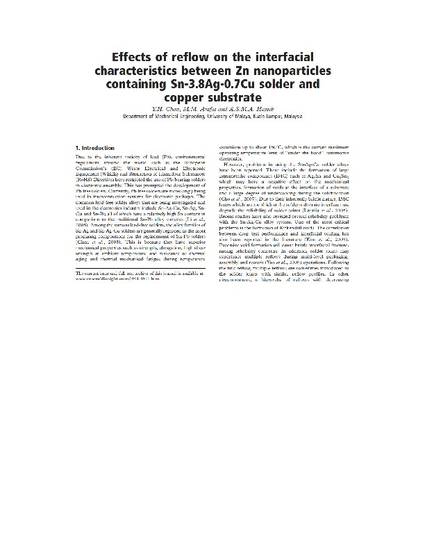 Article
Effects of reflow on the interfacial characteristics between Zn nanoparticles containing Sn-3.8Ag-0.7Cu solder and copper substrate
Soldering & Surface Mount Technology (2013)
Abstract
Purpose - The purpose of this paper is to investigate the effects of zinc (Zn) nanoparticles on the interfacial intermetallic compounds (IMCs) between Sn-3.8Ag-0.7Cu (SAC) solder and Cu substrate during multiple reflow. Design/methodology/approach - The nanocomposite solders were prepared by manually mixing of SAC solder paste with varying amounts of Zn nanoparticles. The solder pastes were reflowed on a hotplate at 250 C for 45 s for up to six times. The actual Zn content after reflow was analyzed by inductively coupled plasma-optical emission spectroscopy (ICP-OES). The wetting behavior of the solders was characterized by analyzing the contact angles and spreading rates according to the Japanese Industrial Standard (JIS 23198-3, 2003). The interfacial microstructure of the solder joints were investigated by field emission scanning electron microscope (FESEM) and energy dispersive X-ray spectroscopy (EDAX). Findings - It was found that upon the addition of 0.3 wt% Zn nanoparticles to the SAC solder, the growth of interfacial intermetallic compound (IMC) layers was retarded to a minimum value. Excessive amount of Zn nanoparticles (0.8 wt%) induced an additional IMC layer (Cu5Zn 8) which increased the total IMC thickness and raising the reliability issue. Originality/value - It is concluded that Zn nanoparticles undergo melting/reaction during reflow and impart their effect on the IMCs through alloying effects. © Emerald Group Publishing Limited.
Keywords
Copper,
Flow,
Intermetallic compounds,
Nanocomposite solder,
Reflow,
Solder,
Zn nanoparticles,
Energy dispersive X ray spectroscopy,
Field emission scanning electron microscopes,
Inductively coupled plasma-optical emission spectroscopy,
Japanese industrial standards,
Contact angle,
Copper compounds,
Emission spectroscopy,
Inductively coupled plasma,
Intermetallics,
Nanocomposites,
Nanoparticles,
Silver,
Soldering alloys,
X ray spectroscopy,
Zinc,
Tin
Citation Information
"Effects of reflow on the interfacial characteristics between Zn nanoparticles containing Sn-3.8Ag-0.7Cu solder and copper substrate"
Soldering & Surface Mount Technology
Vol. 25 Iss. 2 (2013)
Available at: http://works.bepress.com/asmd_haseeb/28/