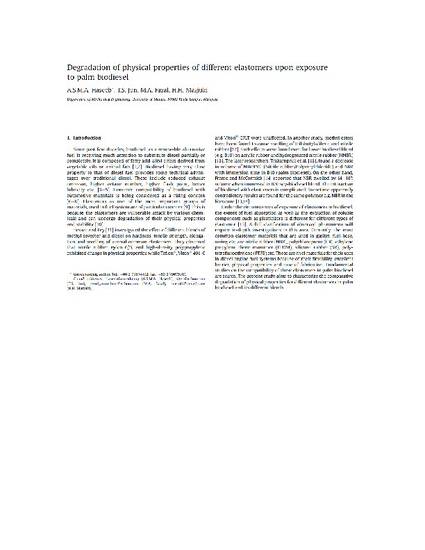 Article
Degradation of physical properties of different elastomers upon exposure to palm biodiesel
Energy (2011)
Abstract
Biodiesel, as an alternative fuel, is gradually receiving more popularity for use in internal combustion engines. However questions continue to arise with regard to its compatibility with elastomeric materials. The present work aims to investigate the comparative degradation of physical properties for different elastomers [e.g. ethylene propylene diene monomer (EPDM), silicone rubber (SR), polychloroprene (CR), polytetrafluroethylene (PTFE) and nitrile rubber (NBR)] upon exposure to diesel and palm biodiesel. Static immersion tests in B0(diesel), B10 (10% biodiesel in diesel), B20, B50 and B100(biodiesel) were carried out at room temperature (25 °C) for 1000 h. Different physical properties like, changes in weight and volume, hardness and tensile strength were measured at every 250 h of immersion time. Compositional changes in biodiesel due to exposure of different elastomers were investigated by Gas chromatography mass spectroscopy (GCMS). The overall sequence of compatible elastomers in palm biodiesel is found to be PTFE > SR > NBR > EPDM > CR. © 2010 Elsevier Ltd.
Keywords
Biodiesel,
Degradation,
Diesel,
Elastomers,
Compositional changes,
Elastomeric materials,
Ethylene propylene diene monomer,
Immersion tests,
Immersion time,
Mass spectroscopy,
Nitrile rubbers,
Palm biodiesels,
Polychloroprenes,
Polytetrafluroethylene,
Room temperature,
Silicone rubber,
Alternative fuels,
Cyanides,
Ethylene,
Gas chromatography,
Hardness,
Internal combustion engines,
Mass spectrometry,
Physical properties,
Plastics,
Propylene,
Silicones,
Tensile strength,
Rubber,
biodegradation,
biofuel,
monocotyledon,
volume
Publication Date
March 1, 2011
Citation Information
"Degradation of physical properties of different elastomers upon exposure to palm biodiesel"
Energy
Vol. 36 Iss. 3 (2011)
Available at: http://works.bepress.com/asmd_haseeb/16/