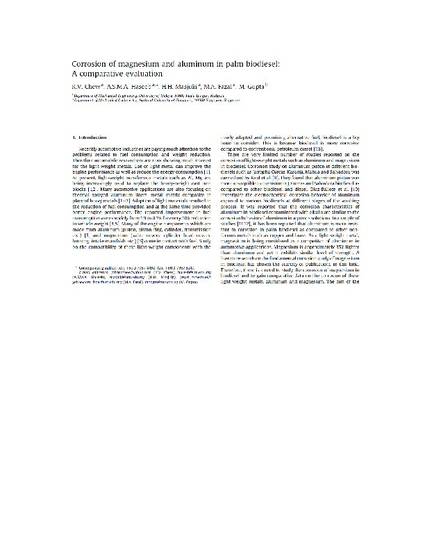 Article
Corrosion of magnesium and aluminum in palm biodiesel: A comparative evaluation
Energy (2013)
Abstract
The present study aims to investigate the comparative corrosion of light-weight metals such as aluminum and magnesium in palm biodiesel. Immersion test at room temperature was carried out for each metal for 1440 h. Sample characterization techniques employed include weight loss measurement, SEM (scanning electron microscope), XRD (X-ray diffraction), TAN (total acid number) and FTIR (Fourier transform infrared spectroscopy). Results showed that the corrosion rate of magnesium was much higher compared to that of aluminum. The surface morphology revealed a significant difference between the biodiesel exposed aluminum and magnesium specimens. Upon exposure to biodiesel, the magnesium surface was found to be fully covered by gel-like sticky mass while the aluminum surface remained clean. © 2013 Elsevier Ltd. All rights reserved.
Keywords
Aluminum,
Biodiesel,
Corrosion,
Magnesium,
Sediment
Publication Date
August 1, 2013
Citation Information
"Corrosion of magnesium and aluminum in palm biodiesel: A comparative evaluation"
Energy
Vol. 57 (2013)
Available at: http://works.bepress.com/asmd_haseeb/14/