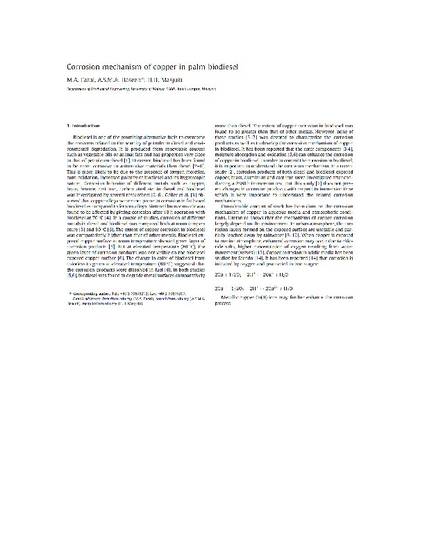 Article
Corrosion mechanism of copper in palm biodiesel
Corrosion Science (2013)
Abstract
Biodiesel is a promising alternative fuel. However, it causes enhanced corrosion of automotive materials, especially of copper based components. In the present study, corrosion mechanism of copper was investigated by scanning electron microscope (SEM), energy dispersive spectroscopy (EDS), X-ray diffraction (XRD) and X-ray photoelectron spectroscopy (XPS). Compositional change of biodiesel due to the exposure of copper was also investigated. Corrosion patina on copper is found to be composed of Cu2O, CuO, Cu(OH)2 and CuCO3. Dissolved O2, H2O, CO2 and RCOO- radical in biodiesel seem to be the leading factors in enhancing the corrosiveness of biodiesel. © 2012 Elsevier Ltd.
Keywords
A. Copper,
B. SEM,
B. XPS,
B. XRD,
C. Pitting corrosion,
Automotive materials,
Compositional changes,
Copper-based,
Corrosion mechanisms,
Palm biodiesels,
XRD,
Alternative fuels,
Biodiesel,
Carbon dioxide,
Energy dispersive spectroscopy,
Photoelectrons,
Pitting,
Scanning electron microscopy,
X ray diffraction,
X ray photoelectron spectroscopy,
Copper
Publication Date
February 1, 2013
Citation Information
"Corrosion mechanism of copper in palm biodiesel"
Corrosion Science
Vol. 67 (2013)
Available at: http://works.bepress.com/asmd_haseeb/13/