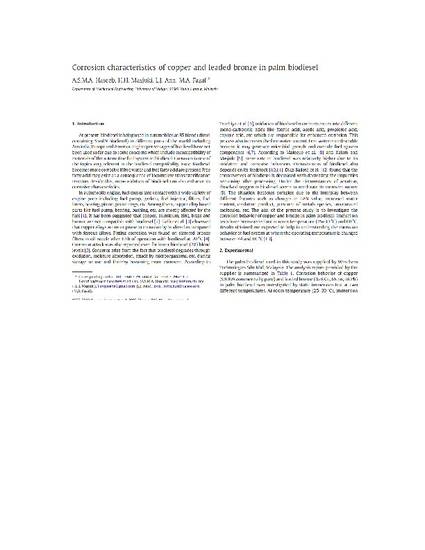 Article
Corrosion characteristics of copper and leaded bronze in palm biodiesel
Fuel Processing Technology (2010)
Abstract
Biodiesel has become more attractive as alternative fuel for automobiles because of its environmental benefits and the fact that it is made from renewable sources. However, corrosion of metals in biodiesel is one of the concerns related to biodiesel compatibility issues. This study aims to characterize the corrosion behavior of commercial pure copper and leaded bronze commonly encountered in the automotive fuel system in diesel engine. Static immersion tests in B0, B50 and B100 fuels were carried out at room temperature for 2640 h. Similar immersion tests in B0, B100 and B100 (oxidized) fuels were also conducted at 60 °C for 840 h. At the end of the test, corrosion behavior was investigated by weight loss measurements and changes in surface morphology. Fuels were analyzed by using TAN analyzer, FTIR, MOA (multi-element oil analyzer) to investigate acid concentration, oxidation level with water content and corrosive impurities respectively. Results showed that under the experimental conditions, pure copper was more susceptible to corrosion in biodiesel as compared to leaded bronze. © 2009 Elsevier B.V. All rights reserved.
Keywords
Biodiesel,
Copper,
Corrosion,
Leaded bronze,
Acid concentrations,
Corrosion behavior,
Corrosion characteristics,
Environmental benefits,
Experimental conditions,
FTIR,
Immersion tests,
Multi-element,
Oxidation level,
Pure copper,
Renewable sources,
Room temperature,
Weight loss measurements,
Alternative fuels,
Automotive fuels,
Bronze,
Corrosive effects,
Diesel engines,
Fourier transform infrared spectroscopy,
Water content
Publication Date
March 1, 2010
Citation Information
"Corrosion characteristics of copper and leaded bronze in palm biodiesel"
Fuel Processing Technology
Vol. 91 Iss. 3 (2010)
Available at: http://works.bepress.com/asmd_haseeb/12/