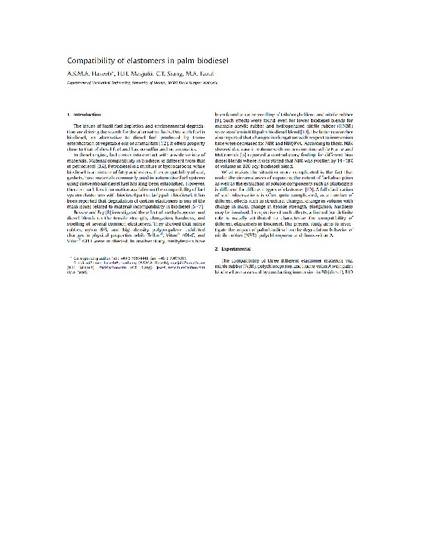 Article
Compatibility of elastomers in palm biodiesel
Renewable Energy (2010)
Abstract
In recent time, environmental awareness and concern over the rapid exhaustion of fossil fuels have led to an increased popularity of biodiesel as an alternative fuel for automobiles. However, there are concerns over enhanced degradation of automotive materials in biodiesel. The present study aims to investigate the impact of palm biodiesel on the degradation behavior of elastomers such as nitrile rubber (NBR), polychloroprene, and fluoro-viton A. Static immersion tests in B0 (diesel), B10 (10% biodiesel in diesel), B100 (biodiesel) were carried out at room temperature (25 °C) and at 50 °C for 500 h. At the end of immersion test, degradation behavior was investigated by measuring mass, volume, hardness as well as tensile strength and elongation. The exposed elastomer surface was studied by scanning electron microscopy (SEM). Fourier Transform Infrared (FTIR) spectroscopy was carried out to identify the chemical and structural changes. Results showed that the extent of degradation was higher for both polychloroprene and NBR while fluoro-viton exhibited good resistance to degradation and was least attacked. © 2010 Elsevier Ltd.
Keywords
Biodiesel,
Diesel,
Elastomer,
Automotive materials,
Degradation behavior,
Elastomer surface,
Environmental awareness,
Immersion tests,
Nitrile rubbers,
Polychloroprenes,
Room temperature,
SEM,
Structural change,
Alternative fuels,
Cyanides,
Degradation,
Elastomers,
Fossil fuels,
Fourier transforms,
Infrared spectroscopy,
Plastics,
Rubber,
Scanning electron microscopy,
Tensile strength,
Wavelet transforms,
biofuel,
fossil fuel,
FTIR spectroscopy,
hardness,
volume
Publication Date
October 1, 2010
Citation Information
"Compatibility of elastomers in palm biodiesel"
Renewable Energy
Vol. 35 Iss. 10 (2010)
Available at: http://works.bepress.com/asmd_haseeb/11/