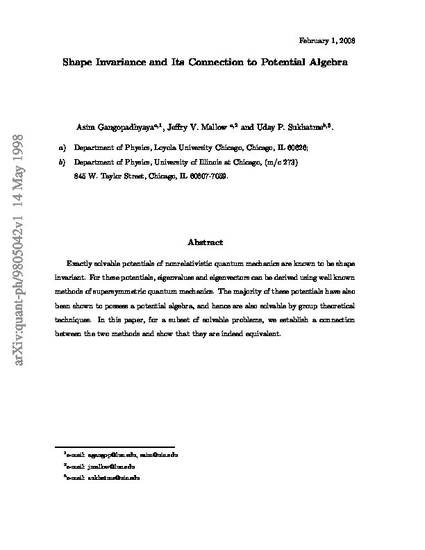 Article
Shape Invariance and Its Connection to Potential Algebra
Supersymmetry and Integrable Models
Document Type
Presentation
Publication Date
5-14-1998
Abstract
Exactly solvable potentials of nonrelativistic quantum mechanics are known to be shape invariant. For these potentials, eigenvalues and eigenvectors can be derived using well known methods of supersymmetric quantum mechanics. The majority of these potentials have also been shown to possess a potential algebra, and hence are also solvable by group theoretical techniques. In this paper, for a subset of solvable problems, we establish a connection between the two methods and show that they are indeed equivalent.
Creative Commons License
Creative Commons Attribution-Noncommercial-No Derivative Works 3.0
Copyright Statement
© 1998 The Authors.
Citation Information
Gangopadhyaya, A, J Mallow, and U Sukhatme. "Shape invariance and its connection to potential algebra." http://arxiv.org/pdf/quant-ph/9805042.pdf