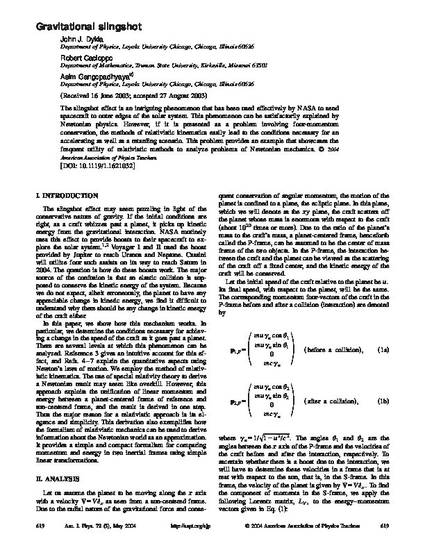 Article
Gravitational slingshot
American Journal of Physics
Publication Date
4-1-2004
Abstract
The slingshot effect is an intriguing phenomenon that has been used effectively by NASA to send spacecraft to outer edges of the solar system. This phenomenon can be satisfactorily explained by Newtonian physics. However, if it is presented as a problem involving four-momentum conservation, the methods of relativistic kinematics easily lead to the conditions necessary for an accelerating as well as a retarding scenario. This problem provides an example that showcases the frequent utility of relativistic methods to analyze problems of Newtonian mechanics.
Identifier
10.1119/1.1621032
Creative Commons License
Creative Commons Attribution-Noncommercial 3.0
Copyright Statement
© 2004 American Association of Physics Teachers
Citation Information
John J. Dykla, Robert Cacioppo and Asim Gangopadhyaya. "Gravitational slingshot"
American Journal of Physics
Vol. 72 (2004)
Available at: http://works.bepress.com/asim_gangopadhyaya/21/