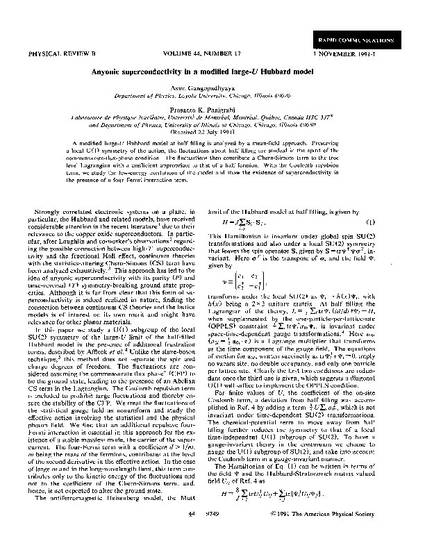 Article
Anyonic Superconductivity in a Modified Large-U Hubbard Model
Physical Review B
Publication Date
11-1-1991
Abstract
A modified large-U Hubbard model at half filling is analyzed by a mean-field approach. Preserving a local U(1) symmetry of the action, the fluctuations about half filling are studied in the spirit of the commensurate-flux-phase condition. The fluctuations then contribute a Chern-Simons term to the tree-level Lagrangian with a coefficient appropriate to that of a half fermion. With the Coulomb repulsion term, we study the low-energy excitations of the model and show the existence of superconductivity in the presence of a four-Fermi interaction term.
Creative Commons License
Creative Commons Attribution-Noncommercial-No Derivative Works 3.0
Copyright Statement
© American Physical Society, 1991.
Citation Information
Gangopadhyaya, A. and Sukhatme, U.P. (1991). Anyonic superconductivity in a modified large-U Hubbard model. Physical Review B, 44(17), 9749-52.