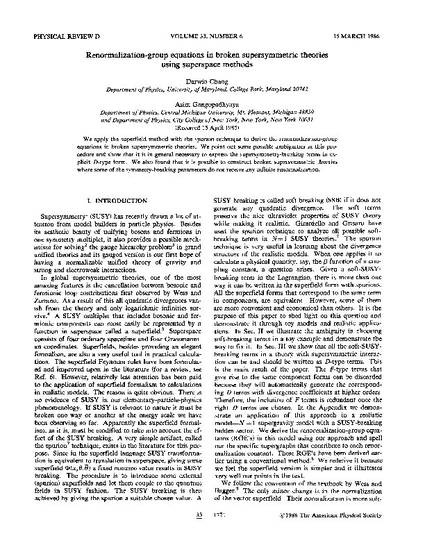 Article
Renormalization Group Equations in Broken Supersymmetric Theories Using Superspace Methods
Physical Review D
Publication Date
3-15-1986
Abstract
We apply the superfield method with the spurion technique to derive the renormalization-group equations in broken supersymmetric theories. We point out some possible ambiguities in this procedure and show that it is in general necessary to express the supersymmetry-breaking terms in explicit D-type form. We also found that it is possible to construct broken supersymmetric theories where some of the symmetry-breaking parameters do not receive any infinite renormalization.
Creative Commons License
Creative Commons Attribution-Noncommercial-No Derivative Works 3.0
Copyright Statement
© The American Physical Society, 1986.
Citation Information
Chang, D. and Gangopadhyaya, A. (1986). Renormalization group equations in broken supersymmetric theories using superspace methods. Physical Review D, 33(6), 1771-1776.