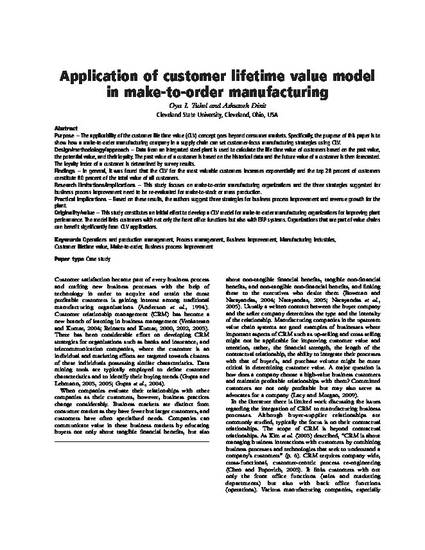 Article
Application of Customer Lifetime Value Model in Make-to-Order Manufacturing
Journal of Business & Industrial Marketing
Publication Date
1-1-2013
Keywords
Marketing,
Supply Chain Management
Abstract
PURPOSE: The applicability of the customer life time value (CLV) concept goes beyond consumer markets. Specifically, the purpose of this paper is to show how a make-to-order manufacturing company in a supply chain can set customer-focus manufacturing strategies using CLV. DESIGN/METHODOLOGY/APPROACH: Data from an integrated steel plant is used to calculate the life time value of customers based on the past value, the potential value, and their loyalty. The past value of a customer is based on the historical data and the future value of a customer is then forecasted. The loyalty index of a customer is determined by survey results. FINDINGS: In general, it was found that the CLV for the most valuable customers increases exponentially and the top 28 percent of customers constitute 80 percent of the total value of all customers. RESEARCH LIMITATIONS/IMPLICATIONS: This study focuses on make-to-order manufacturing organizations and the three strategies suggested for business process improvement need to be re-evaluated for make-to-stock or mass production. PRACTICAL IMPLCATIONS: Based on these results, the authors suggest three strategies for business process improvement and revenue growth for the plant. ORIGINALITY/VALUE: This study constitutes an initial effort to develop a CLV model for make-to-order manufacturing organizations for improving plant performance. The model links customers with not only the front office functions but also with ERP systems. Organizations that are part of value chains can benefit significantly from CLV applications.
DOI
10.1108/JBIM-04-2013-0099
Publisher's Statement
This article is © Emerald Group Publishing and permission has been granted for this version to appear here 10.1108/JBIM-04-2013-0099. Emerald does not grant permission for this article to be further copied/distributed or hosted elsewhere without the express permission from Emerald Group Publishing Limited
Citation Information
Tukel, O. I., Dixit, A. (2013). Application of Customer Lifetime Value Model in Make-to-Order Manufacturing. Journal of Business & Industrial Marketing, 28(6), pp. 468-474.