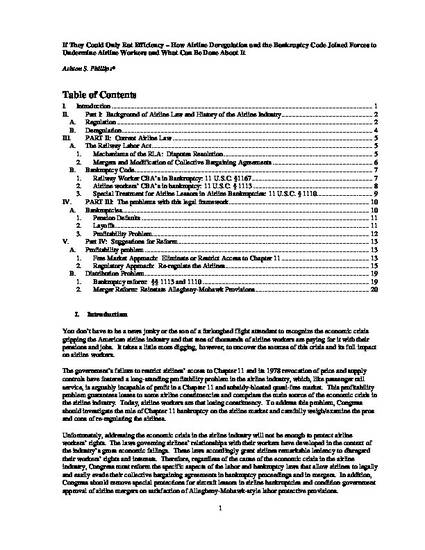 Unpublished Paper
If They Could Only Eat Efficiency: How Airline Deregulation and the Bankruptcy Code Joined Forces to Undermine Airline Workers and What Can Be Done About It
ExpressO (2008)
Abstract
As a species of mass transportation, the airline industry is incapable of making a sustained profit in an unregulated economy. Without regulation, easy access to reorganization and government subsidies only facilitate bloated supply in the air travel market. Bloated supply leads to decreased market price of airfare. This decrease helps consumers, but it doesn't help airlines achieve profitability. Under the current legal scheme, if airlines can't achieve profitability, airline workers will continue to subsidize the industry with radically decreased pay and lost retirement benefits. If Congress increases airline workers' rights in bankruptcy and merger contexts, their positions will be temporarily improved. Without re-regulation though, these changes will only make airlines fail faster. In the end, both bankruptcy and labor law reform and reregulation of the airline industry are necessary to ensure an equitable distribution of the costs and benefits of providing air service to the public.
Keywords
Airline deregulation,
labor protective provisions,
destructive competition,
marginal cost pricing,
distributional justice,
executory contracts
Publication Date
October 31, 2008
Citation Information
Ashton S. Phillips. "If They Could Only Eat Efficiency: How Airline Deregulation and the Bankruptcy Code Joined Forces to Undermine Airline Workers and What Can Be Done About It"
ExpressO
(2008)
Available at: http://works.bepress.com/ashton_phillips/1/