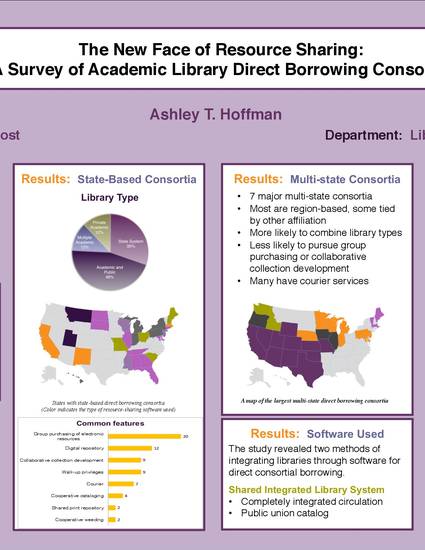 Presentation
The new face of resource sharing: A survey of academic library direct borrowing consortia
Valdosta State University Graduate Research Symposium (2016)
Abstract
As more academic libraries sacrifice shelf space for social areas, resource sharing consortia now, more than ever, help libraries fill collection gaps and ensure their patrons' needs are met.  Traditionally, resource sharing between libraries is facilitated through interlibrary loan software that stands apart from the library catalog and requires staff intervention for processing requests. However, recent software innovations can link library catalogs and allow patrons to request material directly from the library that owns it.  This process, known as direct consortial borrowing, decreases staff workload and improves resource sharing turnaround time.  Direct consortial borrowing requires libraries to integrate more deeply with a shared integrated library system (SILS) or specialized software.  This exploratory study reviews the practice of direct consortial borrowing in U.S. academic libraries and surveys the policies and software used by the major consortia.  Several patterns emerged that could lead to increased library collaboration in the future.
Keywords
resource sharing,
interlibrary loan,
library consortia,
direct consortial borrowing
Publication Date
Spring April 22, 2016
Citation Information
Ashley T. Hoffman. "The new face of resource sharing: A survey of academic library direct borrowing consortia"
Valdosta State University Graduate Research Symposium
(2016)
Available at: http://works.bepress.com/ashley_hoffman/12/