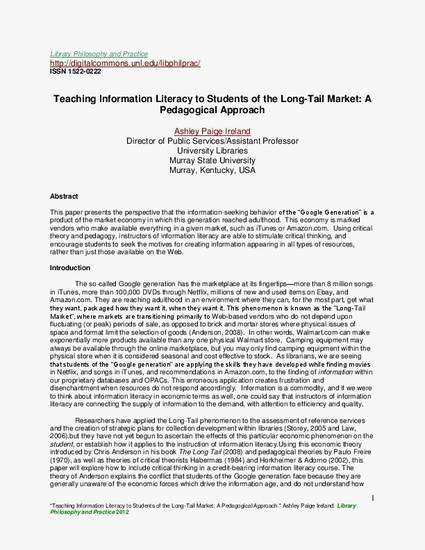 Article
Teaching Information Literacy to Students of the Long-Tail Market: A Pedagogical Approach
Library Philosophy and Practice (e-journal)
Abstract
This paper presents the perspective that the information-seeking behavior of the "Google Generation" is a product of the market economy in which this generation reached adulthood. This economy is marked vendors who make available everything in a given market, such as iTunes or Amazon.com. Using critical theory and pedagogy, instructors of information literacy are able to stimulate critical thinking, and encourage students to seek the motives for creating information appearing in all types of resources, rather than just those available on the Web.
Citation Information
Ashley Paige Ireland. "Teaching Information Literacy to Students of the Long-Tail Market: A Pedagogical Approach"
Available at: http://works.bepress.com/ashley-ireland/3/