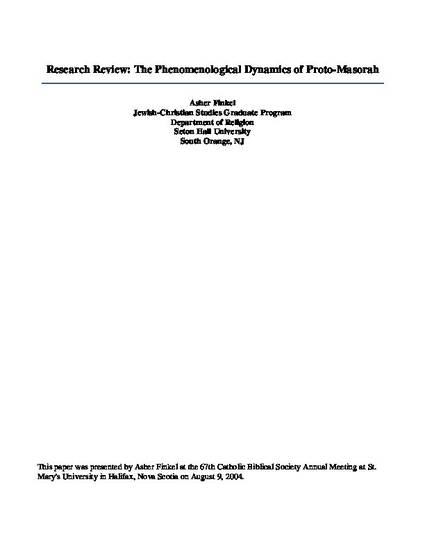 Presentation
Research Review: The Phenomenological Dynamics of Proto-Masorah
67th Catholic Biblical Society Annual Meeting (2004)
Abstract
The paper focuses on the phenomenological dynamics of the proto-masoretic text of the Bible and was presented at the 67th Catholic Biblical Society Annual Meeting at St. Mary's University in Halifax, Nova Scotia on August 9, 2004.
Keywords
Research Review,
Phenomenological,
Proto-Masorah,
Qumran,
Jewish-Christian,
early rabbinics,
holy writings,
set-apart,
Ketav 'amanah,
Hebrew canon,
Torah and the Prophets,
Aramaic-Hebrew,
Hasidim,
katuv,
miqra,
Zadokite,
Shammai,
Hillel,
variegated Judaism,
fearers of God,
Schrift und Uebersetzung,
Sadducees,
Boethesians,
Dead Sea,
pesher,
midrash,
Essenes,
Philo,
Mark 12,
scribe,
kalos,
hesed,
eleos,
zelots,
Rabbi Yochanan,
hedging,
seyag,
mishnah,
Saboraic,
Gaonic,
Talmud,
codex,
Leningrad,
sidrot,
nequdot,
te'amim,
parsiyot,
sfr,
Sefer,
sefor,
simanim,
mnemonic acronyms,
panim,
Soferim,
patar-pasar,
nistar,
nigleh,
matif hakazav,
emet,
doresh,
Dorshe Halaqot,
Oracular Reading,
mehoqeq,
thumim,
Urim Vethumim,
Orthum,
4Q322,
Temple Scroll. Damascus Document,
Hosea 6,
Hos 6,
Haggo,
Tetragrammaton,
Serekh Haberakhot,
Abulafia
Publication Date
August 9, 2004
Citation Information
Asher Finkel, "Research Review: The Phenomenological Dynamics of Proto Masorah." Paper presented at the 67th Catholic Biblical Society Annual Meeting. St. Mary's University, Halifax, Nova Scotia, August 2004. Available at:
http://works.bepress.com/asher_finkel/30
.