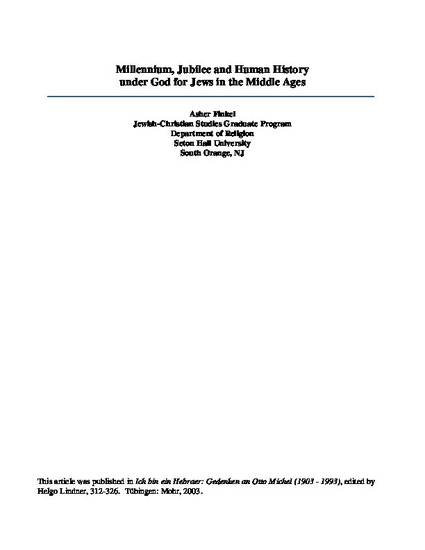 Contribution to Book
Millennium, Jubilee and Human History under God for Jews in the Middle Ages
Ich bin ein Hebraer: Gedenken an Otto Michel (1903 - 1993) (2003)
Abstract
A phenomenological account of millennium in Jewish and Christian thought in honor of Biblical exegete and historian, Otto Michel.
Keywords
Millennium,
Jubilee,
Human History,
Middle Ages,
Baal Shem Tov,
Rabbi Elijah of Vilna,
Religious Zionism,
Secular Judaism,
Hebraer,
Otto Michel,
Nachmanides,
Daniel,
Muslims,
Christians,
Crusade,
Pablo Christiani,
Abraham Abulafia,
Zohar,
Moshe de Leon,
Temunah,
Abraham ben David,
RABAD,
Elazar of Worms,
RASHBA,
Heilsgeschichte,
salvation history,
Gen 2,
Genesis 2,
Messianic calculations,
Jesus,
Sabbath,
shalom,
wholesomeness,
Day of Lord,
zeman matan,
Pentecostal Day,
Shavuoth,
Yovel,
Grand Jubilee,
Talmud Sanhedrin,
Son of Man,
Joachim of Fiore,
saddiq
Editor
edited by Helgo Lindner
Citation Information
Asher Finkel, "Millennium, Jubilee and Human History under God for Jews in the Middle Ages." In
Ich bin ein Hebraer: Gedenken an Otto Michel (1903 - 1993)
, edited by Helgo Lindner, 312-326. Giessen: Brunnen, 2003. Available at:
http://works.bepress.com/asher_finkel/24.