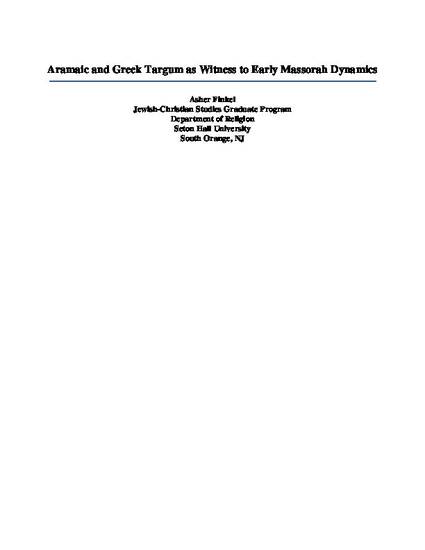 Unpublished Paper
Aramaic and Greek Targum as Witness to Early Massorah Dynamics
(2001)
Abstract
This paper outlines the governing dynamics of early Massoretic activities that are attested to by the complementary work of the Targumim from the Second Temple period.
Keywords
Aramaic,
Greek,
Targum,
Targumim,
Massorah,
Second Temple,
Massoretes,
Rabbi Akiva,
Men of the Great Synagogue,
Ezra,
Seder Olam Rabah,
Shammai,
Hillel Pharisees,
Torah,
Mishnah,
scribe,
Biketav,
Beal Peh,
Decalogue,
Ex 17,
Exodus 17,
zkhr,
I Sam 15,
1 Sam 15,
1 Samuel 15,
Miqra,
Neh 8,
Nehemiah 8,
MaSaR,
Avot de Rabbi Nathan,
genuzim,
metunim,
meturgamman,
Oral Law,
Hagiographa,
Ecclesiastes,
Cant 12,
Mal 3,
Malachi 3,
Zikkaron,
sidra,
Acts 15,
Luke 4,
Lk 4,
taqqanoth,
gezeroth,
seyyag,
halaq,
apeneime,
assigned,
dieneimen,
Gen 17,
Genesis 17,
Gen 18,
Gen 18,
Neofitti Yerusalmi Targum,
vetamah,
dasypous,
hairy legged,
Arnevet,
the rabbit,
Lagos,
II Chr 35,
2 Chr 35,
2 Chronicles 35,
Targum Yonathan,
Deutero-Zechariah,
Zech 14,
Zechariah,
Tal Megillah,
Pesharim,
Son of the Star,
Num 24,
Numbers 24
Citation Information
Asher Finkel, "Aramaic and Greek Targum as Witness to Early Massorah Dynamics." In The Selected Works of Asher Finkel, Ph.D. Seton Hall University, 2001. Available at
http://works.bepress.com/asher_finkel/18
.