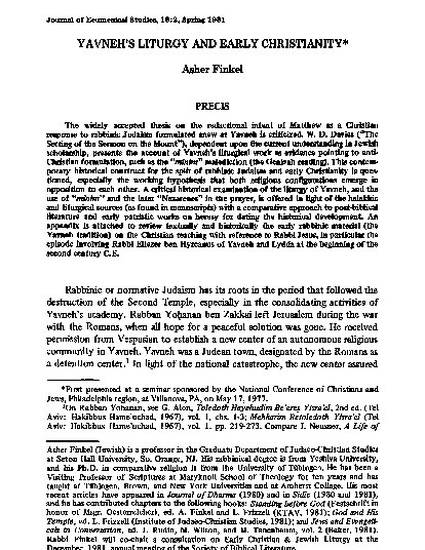 Article
Yavneh's Liturgy and Early Christianity
Journal of Ecumenical Studies (1981)
Abstract
A critical historical examination of the liturgy of Yavneh and the use of the terms "minim" and "Nazarenes" in the prayer with an appendix that provides a review, both textually and historically, of the early rabbinic material (the Yavneh tradition) on the Christian teaching with a special reference to Rabbi Jesus and a particular focus on the episode involving Rabbi Eliezer ben Hyrcanus of Yavneh and Lydda at the beginning of the second century CE.
Keywords
Yavneh's Liturgy,
Early Christianity,
Matthew,
Yavneh,
W.D. Davies,
Sermon on the Mount,
minim,
malediction,
Geniza,
Nazarenes,
halakhic,
liturgical,
Rabbi Jesus,
Rabbi Eliezer ben Hyrcanus,
Lydda,
normative Judaism,
Second Temple,
Rabban Yohanan ben Zakkai,
Rabban Gamliel II,
Hillel,
Pharisaic,
Bornkamm,
P. F. Ellis,
John P. Meier,
van Tilborg,
Sten-dahl,
Douglas Hare,
Hummel,
von Campenhausen,
Strack and Billerbeck,
Jewish-Christian,
Dialogue 18,
Philip Sigal,
Decalogue,
proselyte,
Jabneh,
Tannaitic,
Tosefta Hullin,
min,
Shema,
Alenu,
Palestinian Berakhoth,
resha'im or posh'im,
prayer of Sirach,
adi,
kakountes,
pa'athe mo'ab,
pa'athe Oyeb,
Targum,
4Q pesher,
Derekh Eres,
evil-doers,
insolent ones,
Berakhoth,
Mishnah Rosh Hashanah,
Palestinian Halakhah,
Zealots,
Sadducees,
Samaritans,
Essenes,
Palestinian Sanhedrin,
Midrash Hagadol,
Babylonian Yebamoth,
Munchen Codex,
gilyonin,
Babylonian Hagigah,
Tosefta Sabbath,
Tosefta Yadayim,
evangelion,
Aboth de R. Nathan,
Rabbi Ismael,
nabal,
Mishnah Sotah,
Babylonian Kiddushin,
Star of Jacob,
Dialogue with Trypho,
Bar Kochba,
Messiah,
Apology,
Epistle of Barnabas,
Eusebius,
Church History,
Ebionites,
Elisha ben Abuyah,
Panario,
fall of Jerusalem,
eschatological petitions,
God's kingdom
Citation Information
Asher Finkel. "Yavneh's Liturgy and Early Christianity"
Journal of Ecumenical Studies
18.2 (1981): 231-250.