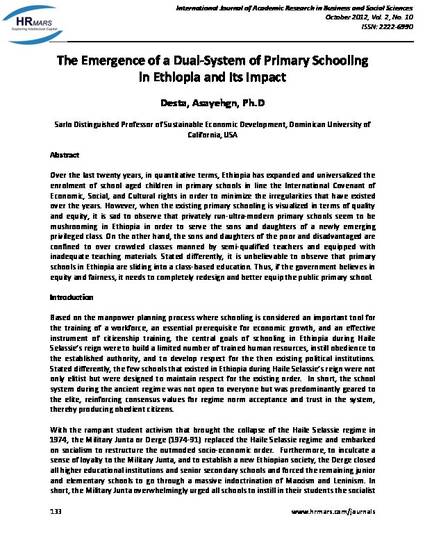 Article
The Emergence of a Dual-System of Primary Schooling in Ethiopia and Its Impact
The International Journal of Academic Research in Business and Social Sciences
Publication Date
10-1-2012
Department
Barowsky School of Business
Abstract
Over the last twenty years, in quantitative terms, Ethiopia has expanded and universalized the enrolment of school aged children in primary schools in line the International Covenant of Economic, Social, and Cultural rights in order to minimize the irregularities that have existed over the years. However, when the existing primary schooling is visualized in terms of quality and equity, it is sad to observe that privately run-ultra-modern primary schools seem to be mushrooming in Ethiopia in order to serve the sons and daughters of a newly emerging privileged class. On the other hand, the sons and daughters of the poor and disadvantaged are confined to over crowded classes manned by semi-qualified teachers and equipped with inadequate teaching materials. Stated differently, it is unbelievable to observe that primary schools in Ethiopia are sliding into a class-based education. Thus, if the government believes in equity and fairness, it needs to completely redesign and better equip the public primary school.
Publisher Statement
Originally published as: Desta, A. (2012). The emergence of a dual-system of primary schooling in Ethiopia and its impact. The International Journal of Academic Research in Business and Social Sciences, 2(10). 133 - 137.
Creative Commons License
Creative Commons Attribution 4.0
Citation Information
Asayehgn Desta. "The Emergence of a Dual-System of Primary Schooling in Ethiopia and Its Impact"
The International Journal of Academic Research in Business and Social Sciences
Vol. 2 Iss. 10 (2012) p. 133 - 137 ISSN: 2222-6990
Available at: http://works.bepress.com/asayehgn_desta/6/